---
While the rest of the automotive world is embroiled in environmental performance, Japan's automakers creep in to stake their claims in a suffering industry. Nissan and Lexus lead the way with the upcoming releases of their latest sports models!
Article Courtesy of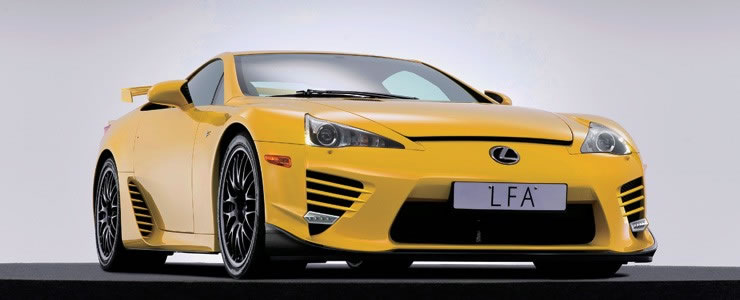 NISSAN GT-R
Nissan is certainly being secretive about its latest GT-R, which is slated for release next year. Best Car Japan had a chat with Chief Engineer Kazutoshi Mizuno, who disclosed several interesting facts regarding the automaker's latest sports offering.
The successor of the current GT-R Spec V, which will be removed from the market this year, is likely to see a 30bhp power boost - raising its maximum power to 560bhp. Since Nissan had also upgraded the GT-R series' output by 30bhp during the last major revamp, it is getting close to reaching its annual 75bhp limit. Furthermore, it may have a difficult time receiving approval from Japan's official land transportation body. Since all GT-R grades currently generate 560bhp, perhaps Nissan will downgrade the current output to 530bhp for all variants except the latest one. The reason behind this is that boosting the performance of a single grade will not appear as ostentatious as upgrading the entire series.
Whereas Spec V is already 60kg lighter than the regular GT-R, its successor will weigh 20 - 30kg less, making its weight roughly 1640 - 1650kg. While this may not sound much, it makes all the difference where performance is concerned. Also, since sports models are not exempted from the requirements of improved fuel efficiency, it is crucial that the latest GT-R's environmental performance coincide with global regulations.
Nissan will soon be releasing the Spec V successor's official codename, which we predict will be "Spec R". The car will be utterly different from last year's GT-R Club Track Edition, which was built for the circuit. It will be lighter compared to Spec V and will cost lesser than its predecessor's ¥15.8 million* price tag. It may also cost somewhere between the pricier Egoist and Premium Edition variants, and may hover around ¥12 million*.
Spec R's Nürburgring test was originally scheduled for last April, but delays resulting from the Eastern Japan earthquake forced Nissan to move it to May or June. The tuning tests for regular roads and the circuit will be conducted at the same time. Based on the information disclosed, we can conclude that the newest GT-R will be a multi-performance model.
We just can't wait to see what else Nissan has up its sleeve!
LEXUS LFA
Like GT-R, Lexus LFA is one of Japan's top sports cars, retailing for ¥37.5 million*. Lexus has been receiving orders since January 2010, and the 165-unit Japanese limit has long been filled. Delivery began late last year, and is still continuing. Not only that, Lexus is currently developing several new and improved sports variants.
Lexus' manufacturing process is so painstaking that it produces only a single LFA per day, and customers who had already ordered their cars may opt to purchase another variant. Among the grades available for selection is the Nürburgring Package, a limited edition variant whose production is limited to just 50 units - though Lexus may add another 100 depending upon demand. It was unveiled at last year's Geneva Auto Show, where Lexus announced that it would be available in the North American and European markets. Meanwhile, it will be launched as the LFA Circuit Edition in Japan. It will be equipped with the automaker's original 4.8-litre V10 engine, which generates 570bhp - 10bhp more than the regular model. Additionally, gear shift speed will be shortened from 0.2 seconds to 0.15 seconds, and the car will receive a lightweight body and special suspension.
Another variant worth watching for is the LFA II, of which 500 units have been ordered thus far. And since orders show no signs of slowing, Lexus has decided to revise its original development plan. Thus, Lexus LFA II will be a sportier variant that appears substantially more aggressive compared to the automaker's initial concept. Air intake fins will be installed on both sides of the body, resulting in the improved performance of the test model. Finally, LFA II will achieve 570bhp, and unlike the Nürburgring Package, will be driven predominantly on regular roads.
Since the production of both the Nürburgring Package and Circuit Limited Edition will begin next year, LFA II's debut will most likely be in the latter half of 2012. Speculated price is ¥37.5 million*, which may go higher depending on the installation more special features.
DUELLING GIANTS
Sports cars are no strangers to competition on and off the circuit. When Lexus upgraded LFA's maximum power to 530bhp last year, Porsche and Nissan raced to keep up. This time, Nissan may be tuning its GT-R to beat the regular LFA, which is Japan's most powerful car with its 560bhp maximum output.
Last year, the American auto magazine,
Motor Trend
, published a feature comparing the acceleration of the commercial models of LFA and GT-R. The results showed that in terms of the 0 - 400km/h acceleration time, GT-R had a slight advantage. The tested LFA model was not equipped with launch control and produced 485bhp, but has been upgraded to 530bhp. Plus, it accelerates from 0 - 100km/h in three seconds, a significant improvement from its previous time of 3.6 seconds.
Regardless, GT-R's main objective is to become Japan's most powerful sports car, which is the reason behind Nissan's insistence on a power upgrade to 560bhp. If Lexus could do it, then Nissan certainly can.
But it seems that Lexus is unwilling to bow to its fellow automaker because it launched its Circuit Edition variant - which generates an even higher 570bhp - last year. Additionally, following the highly anticipated debut of its LFA II, it is likely that Lexus will remain at the top of the performance rankings.
It is still too early to conclude on the LFA II and GT-R's actual performance. Suffice to say that if GT-R weighs 1650kg and generates 560bhp, its 2.94kg/bhp power-to-weight ratio will raise to it "pure super sports car" status. It will surely be a treat when it is released late this year, followed by LFA II in 2013.
*All prices are based on the Japanese automotive market.