---
Honda welcomes the newest and no less bigger addition to the Fit family
Article Courtesy of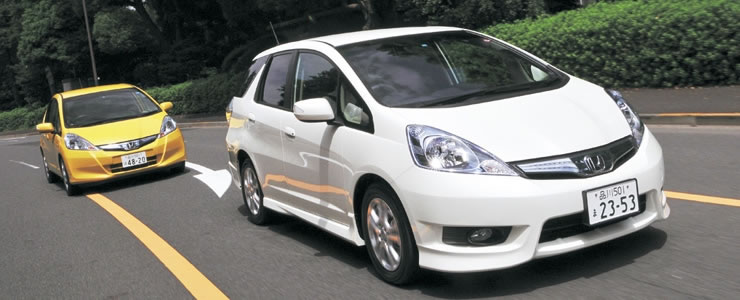 Honda Fit Shuttle faced much adversity before its 16 June launch. Originally scheduled to debut on 17 March, the earthquake in Eastern Japan had the automaker racing to move the car's production from its Sayama Factory to Suzuka. It was an inspired move on Honda's part, one that would have been impossible had it been any other time in its history. Now that Fit Shuttle has finally arrived, the automaker can pat itself on the back for a job well done.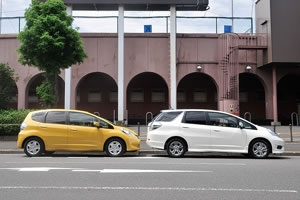 On first glance, it is clear that the Fit Shuttle is a larger and more spacious version of the innovative Fit, which has quickly become the benchmark of all compact cars. In fact, Fit's influence has spurned a new automotive trend, one where size is limited in the pursuit of improved fuel efficiency. Currently, the dominant belief is that only users who require a greater seating capacity and expansive space would purchase a van - such as Honda's own Stepwagon - while other consumers would be more than happy with a more compact vehicle. Fit also inspired the automaker's Freed and Stream minivans, which boast stellar fuel efficiency at the expense of larger bodies. Another way Honda aims to enhance its vehicles' environmental performance is through its innovative IMA hybrid system.
Fit Shuttle Hybrid shares many of Fit Hybrid's features, and more. Though it is 70kg heavier, it shares Fit Hybrid's excellent fuel consumption rate. Additionally, Honda has been meticulous in the development of its new minivan - engine and chassis friction have been reduced and its aerodynamics is nothing short of excellent.
Since Fit Hybrid and Fit Shuttle Hybrid are both equipped with 1.3-litre engines that produce 88bhp and electric motors that contribute an additional 14 horses, their on-road performance is identical. In fact, had I closed my eyes and switched cars, I would not have felt any difference at all.
Moreover, both cars possess all the advantages of Honda's IMA system. Not only does this improve the fuel efficiencies of the automaker's vehicles, it also provides them with excellent everyday driveability. IMA-equipped cars and hybrids in general, tend to drive smoothly thanks to the integrated electric motor. Plus, their Idling Stops activate seamlessly while the regenerative brakes engage with a "swoosh", creating a sense of exhilaration. More importantly, the Fit Shuttle's heftier weight did not affect its driveability.
While Fit Shuttle was under development, its engineers paid special attention to its chassis and powertrain, particularly to its suspension settings, body rigidity, especially around the rear, and sound insulation.
The Shuttle's cabin has also been adequately soundproofed. While the difference is not so striking while one is seated in the driver's seat, it is more pronounced in the rear. Road noise from the rear wheels is negligible, as is overhead buzzing. What's more, the Fit Shuttle's cargo capacity greatly surpasses the Fit's.
As similar as Fit and Fit Shuttle are, their objectives are starkly different. While Fit has an optimum pedal layout that enables brisk footwork, it tends to shake and jerk during city drives. On the other hand, the larger Fit Shuttle is always calm and steady, an advantage of having a larger body. If you prefer your handling brisk, Fit is the way to go. But Fit Shuttle has the superior size and is perfect as a family car.
In conclusion, these cars will appeal to different drivers. Fit will likely appeal to those who prefer nimble footwork, while families are probably going to love Fit Shuttle's space and stability.