Terry Itoh talks Japanese sports cars and makes a celebrity out of Nissan GT-R
Article Courtesy of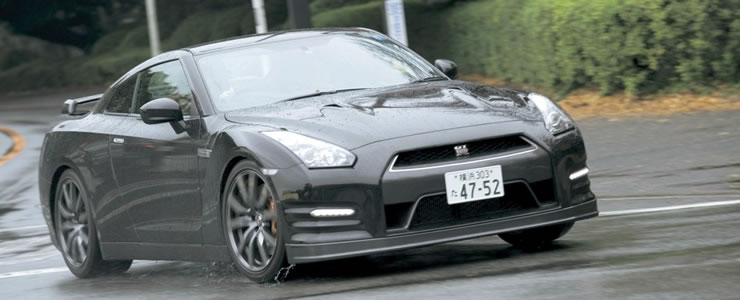 When the current Nissan GT-R debuted in 2007, Soichi Shimizu complained that it had become so large that it resembled an aircraft carrier. I disagreed and instead likened it to a spacecraft carrier - one that would save the world!
Several years have passed since the GT-R's launch, and it still keeps most of its magic. While it would be easy enough to applaud its 530bhp maximum power, the fact is that it goes beyond a mere assessment of performance. While racers will no doubt find something to complain about, casual drivers like us are in complete awe of GT-R's perfection. Similar to R34 Skyline GT-R, objectivity disappears in the face of GT-R's glory - in that sense, it can be compared to an artistic masterpiece. Also, like any piece of art whose value escalates after its creator's death, the older GT-R models became even more valuable after production has been ceased.
Previously, the GT-R was one of Japan's foremost brand names, and its influence was felt even outside the automotive sphere. In fact, the attractive Egoist variant deserved a grand launch party at the Tokyo Dome. And though Nissan's Headquarters at Yokohama had announced the variant on a global scale well before its launch, most Japanese consumers had not been aware of it.
Riding a GT-R is excellent as always, and it truly deserves the honour of being the pride of Japan. Since it is a Japanese car, it has been built to cater to the requirements of the Japanese market. This is well and good, save for one problem: it does not receive the attention that it deserves. Due to the depressing economic climate, most Japanese enthusiasts cannot afford a car of the GT-R's calibre, and Nissan would be wise to expand its market to burgeoning economies like China and India. But before that, some changes will have to be made.
The GT-R's overall design will definitely appeal to the Japanese market, especially to fans who feel nostalgic for the 1970s and 1980s. But to German, French and Chinese consumers, it will seem sadly out-dated. Therefore, its body should be streamlined so that it resembles the freshly designed Infiniti Essence, which looks like a car anyone in the world can appreciate. Nissan could also follow Audi's example and create new, bold colours to broaden its cars' appeal.
It is interesting to note that most Japanese consumers do not recognise the beauty of domestic inventions until they attain international success. Consumers also tend to admire things from afar and balk when they see it up close. Such is the case with the GT-R.
For the GT-R to survive in the Japanese market, several changes have to be made. First, Nissan could develop several smaller sports models. The GT-R is understandably huge in order to make it attractive to international buyers, but it is much too large for Japan. In fact, I would not be able to drive along the narrow streets of my hometown, Kamakura, in a GT-R.
These days, so-called "car enthusiasts" frequent blogs and Twitter feeds devoted to topics related to fuel efficiency. Call me traditional, but I believe that there is still much to be said about factors like acceleration rate, even in the midst of an environment-friendliness revolution. But as the automotive paradigm is shifting, it is even more crucial for Nissan to create compact sports models.
Petrol-heads will rightly question how a downgraded model can hope to match the original car's performance. While smaller cars will obviously pale in comparison to the GT-R, Nissan could use their extensive experience in the development of sports models to their advantage. Just as Porsche produces the Cayenne and Panamera to boost its reputation, Nissan could consider developing a 4-door GT-R or even an SUV. Not only will this enhance the brand's image, it will also potentially expand the automaker's market share.
European automakers like Ferrari and Aston Martin have been emerging with sleeker organic designs, and other automakers are racing to keep up. Therefore, the GT-R's aggressive, straight body will stand out all the more.
An issue with the GT-R is its high maintenance cost, and in particular its staggering registration fees. It is something like buying a house and completing your mortgage payments, only to realise that you need to fork out an extra ¥100,000 per month for maintenance. Also, while some Japanese consumers are willing to save up to buy a car, they often reconsider when they catch a glimpse of the maintenance fees. This time, it is similar to the case of a boy who works his hardest to win a girl's love, only to ignore her when she becomes his girlfriend.
It would be wonderful if Nissan could do something to address this maintenance issue. For example, it could do away with Dunlop or Bridgestone tyres and instead install ones manufactured in Korea or Taiwan. Then the burden to maintain the car would not be so hard on the owner.
Another pertinent issue is the depressing state of Japan's sports car market. Cars as famous as the Honda NSX, Toyota Supra, Mitsubishi GTO and Mazda RX-7 have disappeared. Even if production of the compact NSX and Supra were resumed, their development costs may keep prices high.
The last hope of Japanese automakers is to focus on developing more sports variants of their famous subcompacts. These include the Toyota Vitz, Nissan March, Honda Fit, Mazda Demio, Mitsubishi Colt and Suzuki Swift. Automakers could try developing lightweight models with manual transmission and enter them in international races - the enhancements can even be as simple as painting the body with matte black paint and pasting a number on the hood. All it takes to start the trend is a single adventurous automaker - will Nissan be the one? Best Car certainly hopes so!