With smartphone apps making our lives so much easier, here are seven must-have apps for every driver in Singapore to download now.

riving in Singapore can be a complicated and stressful affair for the novice. There are many things to take note of, such as seeking out the best routes, avoiding bad traffic, Electronic Road Pricing (ERP) rates, parking charges and availability of parking spaces, to name a few. It can all get quite confusing for the inexperienced driver who may find it a bit too overwhelming.
But with the advent of smartphone apps, drivers now have access to a whole bevy of information right at their fingertips to make their life on the roads that much easier and more convenient. There are plenty of apps that can help you navigate around our island efficiently, inform you of ERP rates and timings, and even tell you how much it will cost you to park your car.

Here are seven of the best driving apps that every driver should have installed on their smartphone.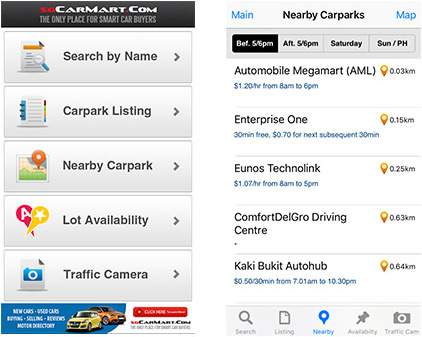 1. SGCARMART CAR PARK RATES GUIDE
If you are looking for an app to help you find out the various parking rates in Singapore, sgCarMart's Car Park Rates is your answer. It offers a comprehensive database of car park rates all around Singapore, with over 700 car parks listed, and is powered by data from the Land Transport Authority, as well as
sgCarMart.com
, Singapore's number one automotive portal.
In addition, its Nearby Carpark function allows you to locate the cheapest car park that is nearest to your current location, eliminating the headache of having to search for the most affordable parking spots where you are.
Finally, it also has a Lot Availability function that can show you how many available spaces there are at major car parks, complete with real time updates.
Download sgCarMart Car Park Rates Guide on iOS or Android now!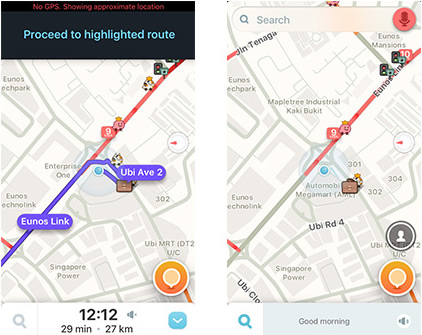 Both iOS and Android have their own native navigation apps in the form of Apple Maps and Google Maps, but for many users, their app of choice is Waze, which is hugely popular as an alternative and has already accumulated some 50 million users worldwide.
Waze not only provides real time traffic information along your navigation route, but users can also contribute traffic news and incidents by submitting 'reports' to the app, helping other users along the way.
Other useful features include listing down nearby petrol stations and their prices, as well as alerting you to the presence of speed cameras and police traps.
Download Waze for
iOS
or
Android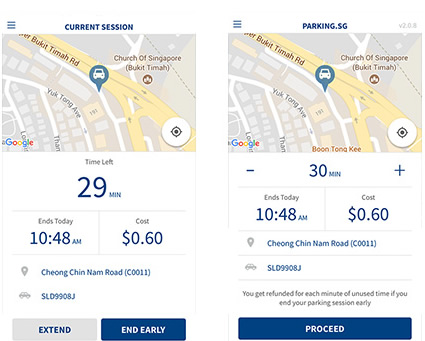 Introduced on 1
st
October, this new app comes courtesy of the Government Technology Agency, together with the Urban Redevelopment Authority (URA) and the Housing Development Board (HDB). Parking.sg is set to revolutionise parking in Singapore, by eliminating the need for coupons once and for all, saving motorists from the trouble and anxiety of having to tear the correct amount of coupons for their parking duration.
The app itself is easy to use. Simply enter your credit or debit card details, your car's registration number, and the carpark code (which will be displayed prominently at the relevant carparks). Once that is done, simply indicate the duration of how long you intend to park, and you're set.
If you end your parking session early, you will get a prorated refund on the unused parking time. And the app even sends you an alert 10 minutes before your session expires, allowing you to extend the session on the app if you need to do so.
Download Parking.sg on
iOS
or
Android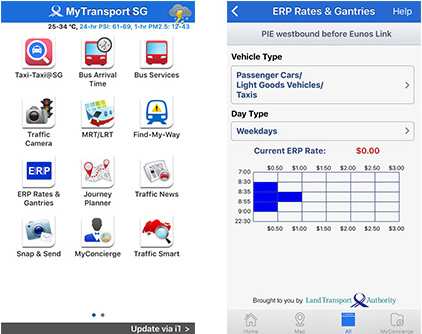 This app comes from the Land Transport Authority (LTA) themselves, and is your all-in-one guide to everything related to land transport in Singapore, providing useful information for both drivers and commuters.
Among the many features in this app include offering real time traffic news on major roads and expressways around Singapore. And in particular, this is the only app that provides official updated prices on all the ERP gantries around the island.
For bus commuters, this app will be useful for you as well, as it allows you to search and locate nearby bus stops with service number and route details, and provides real time bus arrival information.
Download MyTransport Singapore for
iOS
or
Android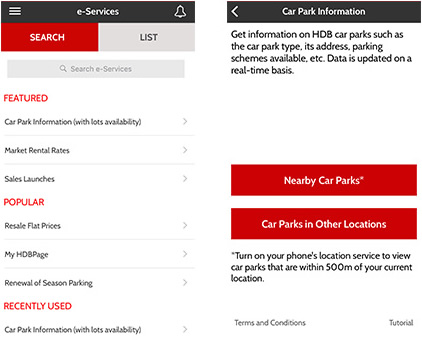 Another app from a stat board, the HDB's very own mobile app offers a full suite of features for everything related to HDB and their relevant transactions.
For drivers, this app allows you to purchase, renew, transfer or terminate the HDB season parking for your car, without needing to head down to your local HDB office to do so. All you need are your vehicle's details and, if necessary, credit card details for payment.
In addition, you can also use this app to check on the status and pay your HDB parking summons, if any. You can also find information about HDB's car parks like their location and lots availability for greater convenience.
Download Mobile@HDB for
iOS
or
Android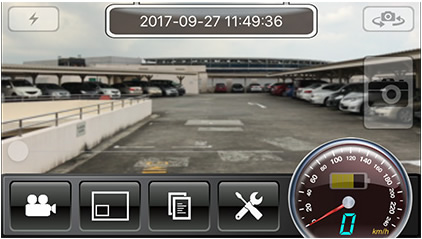 If you don't have an in-car dash camera installed, this app provides for an affordable alternative solution for recording footage while on the go.
Carcorder is a professional app that allows you to record videos while on the move, and incorporates GPS data as well as speed warnings. It allows you to use either the front or the back camera of your iPhone to make video recordings, and even shows you information such as your speed.
Carcorder uses your iPhone's camera to record at up to 1080p high-definition resolution, and even incorporates features that can save your driving data and make emergency calls in case you encounter any accidents. It is currently only available for Apple iOS devices.
Download CarCorder for
iOS
Drink-driving is an offence and highly discouraged. If you've been drinking after a night out, you should preferably call for a drive-home valet service to get you home safely.
Jocky is a cashless driver booking app that connects you to a qualified designated valet driver to get you and your car home safely. It works just like Uber, except that this time you're calling for a driver instead of a car.
Just set up your account with your credit card details in the app, save your home address, and you're now ready to call for a valet to drive you home. Trips cost $38 each, and surcharges apply for extra drop-offs if you need to send your friends home as well.
Download Jocky for
iOS
or
Android