MOBIL 1:
THE
TRUSTED
MOTOR OIL FOR DECADES
Text | Idris Talib
Photos | Low Fai Ming
8 August 2019
Mobil 1 is a name synonymous to many and has a longstanding history. We check out three automotive establishments, which have trusted Mobil 1 over the years.
Who is Brenntag?
Brenntag is the global leader when it comes to the distribution of chemicals. Its diverse operations span across 580 locations in 76 countries.
One of the products that it officially distributes is Mobil lubricants, which range from commercial vehicle lubricants to passenger vehicle lubricants (including motorcycle oils), with the latter branded as Mobil 1.


How Mobil 1 works with Brenntag?
As the Authorised Distributor for Mobil 1 engine oils in Singapore, Brenntag has a strong focus and understanding of the automotive landscape in Singapore, as its Asia Pacific headquarters is based here.
Brenntag has been partnering with car dealers and automotive workshops that allow consumers here to have the best Mobil 1 products to choose from. Why Mobil 1? Because automakers trust Mobil 1 - more than 70 of the top performance vehicle models roll off factory lines with Mobil 1 motor oil.
We check out three successful automotive workshops that have built trust in Mobil 1 products over the years.


MBM Wheelpower: Automotive maintenance grandeur
Since 2001, MBM Wheelpower's vision is to be Singapore's premier independent workshop, offering a very high level of service, with none of the expected high costs.
And when you turn up at the sixth floor at Sin Ming Autocity, you'll know MBM isn't mucking about - we dare say that it even tops the service outlets of authorised dealers.
Its intricate fittings, such as lounge sofas, and a cigar and wine bar, isn't a grand hotel lounge, but the waiting lounge of MBM Wheelpower. MBM Wheelpower is one of the trusted and leading independent car workshops in Singapore. With over 38,000sqft of space, it can serve up to 80 cars daily, providing a one-stop solution to all.

From bread-and-butter models like the Honda Vezel, to rare and exotic cars like the Lamborghini Aventador, MBM Wheelpower has the skills to handle various makes and models.
Besides the usual service routine, it has a body and paint centre, with a state-of-the-art chassis alignment system that is able to correct accident vehicles to OEM standards.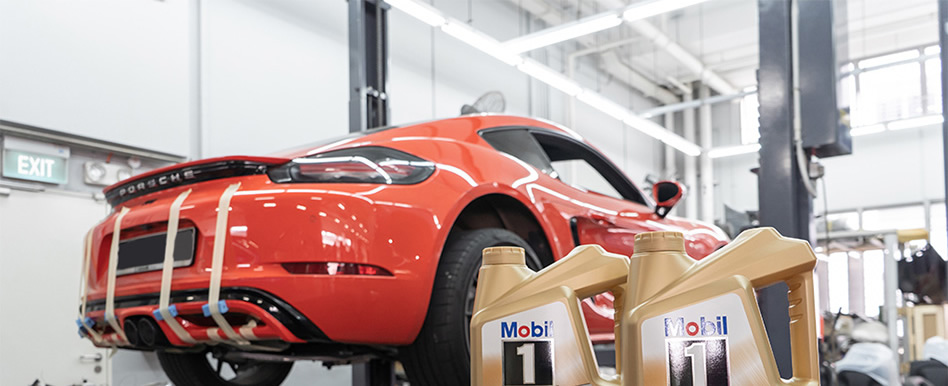 With its high levels of service and hospitality, Mobil 1 is the lubricant used for MBM Wheelpower's services. It complements MBM Wheelpower's abilities with its top-quality service and expertise.
As Mobil 1 has different levels of specification and approvals for its lubricants, it caters to the various makes and models that MBM services and maintains every day.
To find out more about MBM Wheelpower, head on down to its website,
here
.


Juzz For Cars: A partnership over decades
For those au fait the BMW brand, the Juzz For Cars name is probably one many will know of.
As a preferred car servicing outfit for BMWs and MINIs, Juzz For Cars also offers state-of-the-art diagnostics, bodywork repair and aftermarket support all under one roof on the third floor of Sin Ming Autocare.
Juzz For Cars prides itself with its high levels of care and expertise in handling its customer's cars. This includes the little details, from making sure car seats, steering wheels and body panels are protected before work begins.

Founder of Juzz For Cars, Amos Mok, has a strong passion for cars. Since its inception in 1999, there has been one brand of oil that Amos and his team has trusted, and that is Mobil 1.
"Mobil 1 sells by itself with its longstanding history in the industry," says Amos. "We know that it works, and as car enthusiasts ourselves, we only trust the products that we would use ourselves on our customers' cars."

And it is that level of trust that the customers at Juzz For Cars have expected from Amos and his team over the past two decades.


For example, it provides a pickup and drop-off service for customers with busy schedules. It means customers can have their cars picked up from their preferred locations.
With follow-up calls to ensure customers are at ease, customers can trust that Juzz For Cars takes care of their rides - the same way that Mobil 1 is a trusted lubricant brand.
To find out more on Juzz For Cars, check out its official Facebook page 
here
.


AbwinM9 Service Centre: A new outfit with a long history
AbwinM9 Service Centre covers all aspects of car servicing, from parts replacement to repair and diagnostics for all makes and models.
AbwinM9, strategically located in the East at Premier @ Kaki Bukit, might be a new outfit, but it is no stranger when it comes to our local automotive landscape.
Abwin's experience with commercial vehicles spans over two decades, from the sales of new and used commercial vehicles to servicing and bodywork repair.

And with AbwinM9 Service Centre, it is through its new passenger vehicle service offerings using Mobil 1 lubricants that the AbwinM9 team and its customers have seen positive results. This brings a new level of value added service to its clients.
According to Hong, AbwinM9's Chief Mechanic, his recommendations for Mobil 1 to customers has seen positive results. "One of my customers switched to Mobil 1 fully synthetic, which gave him better fuel consumption and quieter engine operation. He came back to buy eight servicing packages using Mobil 1 with us immediately," quipped Hong, with a smile.

That customer, which Hong says is a private-hire driver, is one of many examples he shared on his customers' experience with Mobil 1. And for private-hire drivers, fuel consumption is ever so important, as it can have an impact on revenue.
"Mobil engine oil brings about a positive experience for our customers, including myself. I'm using Mobil 1 products for my own car," said Jack Goh, Managing Director of AbwinM9. "You don't need to be a car enthusiast to know that Mobil 1 works, and it needs no introduction - everyone knows it is a very good lubricant brand," added Jack.
To find out more on AbwinM9 and its services, head to its website,
here
.
Power Up for Singapore with Mobil 1
If you're looking into getting a Mobil 1 service at any of the three esteemed workshops we've mentioned, well, Brenntag has a promotion for you.
From now till 31 October 2019, purchase a Mobil 1 Servicing Package from the three above-mentioned workshops and you stand a chance to win a pair of Luxury Cruise Tickets!
To participate, SMS: Mobil1 [space] Your Name [space] Receipt No. [space] Workshop name to 9010 2322.
Terms & Conditions apply. To find out more, click
here
.