STEP RIGHT UP WITH A NEW LEXUS IS
Text | Desmond Chan
Photos | Low Fai Ming
13 March 2020
Looking to celebrate a big milestone and take the next step up into the life of automotive luxury? The Lexus IS will tick all the right boxes for you.
The passage of time is a fundamentally inescapable reality of life, one perhaps most easily marked by the annual celebration of your entrance into this world - birthdays.
But marking the passage of time should be more than just plotting out one day in the calendar. Life should be celebrated in milestones. Milestone moments in life represent significant changes - changes that elevate and enhance our lives for the better.
Starting school is a big milestone. Getting your first job is a big milestone. Turning 30 is a big milestone. Getting married is a big milestone. And, buying your first premium car is a big milestone, too.
Taking that next automotive step requires a fair amount of deliberation - the car needs to deliver notable improvements to your quality of life, and at the same time still needs to be practical, usable and reasonably financially accessible. And of course, it must be exciting - a fitting celebration for a grand occasion. 
Here are four ways the
Lexus IS
is the ideal choice for the next step in life.
Impeccable quality


Arguably, the most important thing about a premium car is its quality - from the materials used to the level of craftsmanship. 
The Lexus IS is appealing both outside and inside, with its sleek sporty exterior that cocoons a cabin that is faultlessly crafted with hand stitched seams and premium materials, creating a luxurious and lavish ambience.
Sensible utility


Sharp styling and fine materials are all well and good, but a car must fulfill its fundamental purpose well, and the Lexus delivers. Enter the driver seat and you'll feel a sense of familiarity accentuated with quality, making this car an easy driver that's ideal for city living. 
Parking is an effortless and anxiety-free endeavour due to its compact size, but don't let its stature fool you - the IS cleverly disguises comfortable and ample seating for up to five, and also boasts a sensibly sized 480-litre boot that will accommodate a young growing family. 
Easy accessibility


Stepping up into luxury obviously comes at a cost, but that doesn't mean it's not achievable. In fact, with a list price of $176,800, the Lexus IS is in fact one of the most affordable cars in its segment right now.
The Lexus IS also makes enhanced performance accessible. The turbocharged 2.0-litre delivers 241bhp and 350Nm of torque to the rear wheels in silky smooth fashion. And, that enhanced performance doesn't come at a significant compromise on fuel economy - the car is rated at 13.3km/L.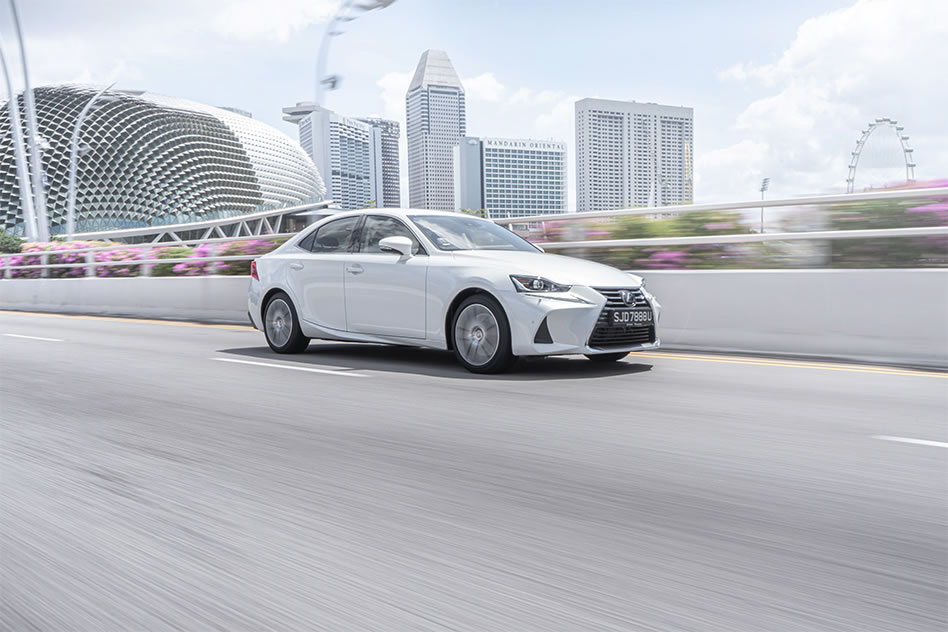 Fitting eligibility


Ultimately, celebrating milestones and taking the next step in life is all about the feel good factor. Whether it's buying your dream car, the Rolex you have been aspiring to, or even your dream guitar, these are all celebrations of personal accomplishment, and must imbue you with a sense of joy and pride.
Behind the wheel of the Lexus IS, there's no doubt that you will feel good. With its effortless power, sweet and assured handling and ample refinement, the Lexus IS delivers a heartily luxurious and emotional experience perfectly suited for the modern gentleman. As a proud owner of the Lexus IS, there's no doubt that it will enhance your life is a multitude of ways, and will capably take you on to your next big milestone in life.