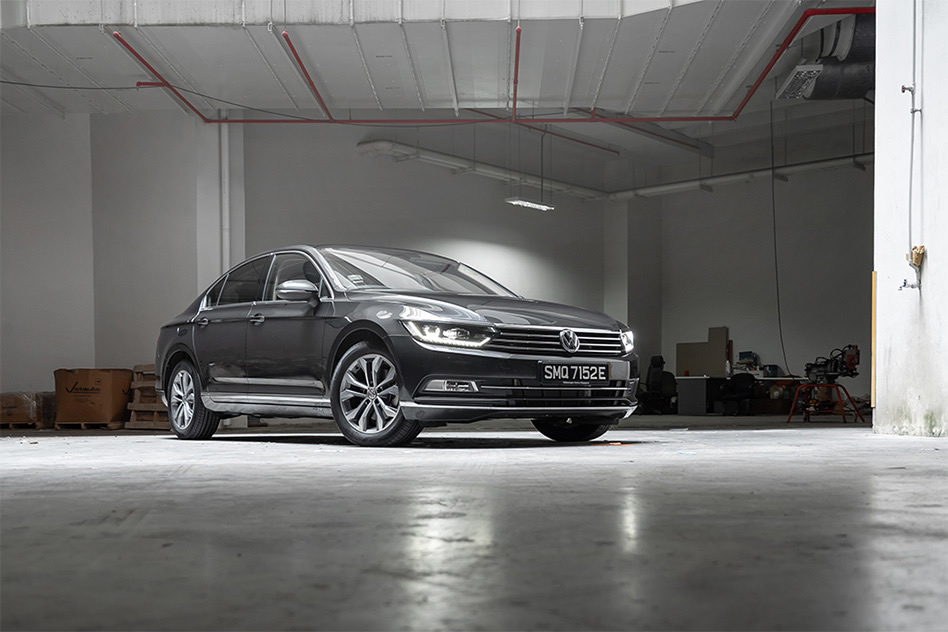 5 REASONS WHY THE PASSAT IS A BETTER CAR THAN YOURS

Text | Goh Zhi Xuan
Photos | Low Fai Ming
25 September 2020
The Volkswagen Passat is a sharp-looking executive ride, but that's just the tip of the iceberg. Here are 5 reasons the Passat is better than the rest.
The Volkswagen Passat is a smart-looking executive sedan that offers all the right things. Take a gander into it and you'll surely be taken away by the roomy interior. But do not be mistaken, space isn't all that it has to offer. The Volkswagen Passat is a marvelous proposition that combines maximum practicality, comfort, luxury, and safety in a stylish package. Really, it is likely to be a better car than what you are used to.

Executive styling for the sophisticated driver


The experience of all cars starts with its exterior, and with the Passat, from the moment you set your eyes on one, you'll know that it is the right choice. With an adequately-sized chrome grille flanked by a pair of exquisite LED head lights separate LED daytime running lights and cornering lights, the front-end is reminiscent of other cars in Volkswagen's line-up.
But what really stands out isn't the familiar front-end, it is the Passat's contours and distinct body lines, its long, lowered bonnet, short overhang and a long wheelbase which works together to create a distinct, elegant look.

Ample space for passengers to travel in comfort


Open the doors and you'll be greeted with a pleasant atmosphere with a strong sense of spaciousness - thanks to the high-quality materials and its massive interior space. Unlike most other sedans, the rear bench seats easily accommodate three, with a centre seat that is wide enough to accommodate an adult.
Perhaps one of the Passat's strongest suits comes from its lengthy wheelbase, you'll see when you take a seat in it and notice the generous legroom, switch over to the rear and you might just start to wonder if you've wandered into the rear of a limousine instead. Apart from legroom, the Passat also offers excellent elbow room and headroom for all occupants.

Cutting-edge systems offering maximum safety


Up front, the Passat is equipped with a pair of outstanding head lights, casting a beam of a similar spectrum to that of daylight, illuminating the roads with excellent effectiveness while consuming less energy. The pair of automatic head lights is also packed with a simple yet useful 'Leaving Home' and 'Coming Home' feature, it illuminates your path to and from the car, providing an executive feel.
At the rear, the Passat's tail lights features an innovative LED array that changes under braking - a design that is not only unique, but also results in a prominent indication of braking.
Equipped with an advanced airbag system consisting of 6 airbags, including side impact airbags for the front seats and curtain airbags that protect both front and rear passengers, all occupants are well-protected during an accident. On top of the all-round protection offered by the airbags, the Passat is also equipped with multi-collision brake system that can limit the damage by detecting an accident and initiating the brakes to prevent further collisions.
Driver fatigue has a huge impact on driving and safety, the Passat comes with a rest assist fatigue detection system which monitors driver behavior, noting any erratic steering movement and lane deviations and alerts the driver with a visual display on the dashboard, as well as a warning sound.

Kick back, relax and enjoy a comfortable ride or drive


While the capacious interior should've sealed the deal when it comes to travelling in comfort, the Passat offers more than just that. The driver gets an ergoComfort seat that is designed for maximum comfort. There is a vast array of adjustment options to ensure that you can have the perfect ergonomically supported seating position while the memory function allow you to replicate that setting every time you get in the seat. Long drives are no longer a concern with built in massage function for the driver.
With three independently controlled temperature zones for the driver, front passenger and rear passengers, you can adjust the temperature to just what you like for ultimate comfort when on the road. The air conditioning system is also equipped with an active biogenic filter and automatic air recirculation to filter out allergens and keep the air quality at a consistently high level.
Enjoy a calm and soothing experience when driving at night with the ambient lighting system, which also makes it easier for you to find your way around in the dark.

Equipped with all you'll ever need for an enjoyable trip


A capable executive sedan should be able to haul your family along on an enjoyable road trip, with its large, comfortable interior, the Passat is definitely capable of doing so. You'll also be able to carry all the luggage you'll need in its large 586-litre boot. Of course, space alone wouldn't suffice, the Passat offers more than just that.
A high-resolution digital display provides all key information you need as you drive, meanwhile an 8.0-inch touch screen display with Bluetooth connectivity and 8 speakers provides all the entertainment you'll need for an excellent trip. Opt for the Highline trim and you'll get the 9.2-inch Discover Pro navigation system with an innovative gesture control.
Powered by an efficient 1.8-litre TSI petrol engine, you'll get 178bhp on tap - overtaking will never be a concern, while enjoying a low fuel consumption of 16.9km/l. Mated to a 7-speed DSG gearbox, power is delivered effectively, offering a balanced and smooth ride.