The world of Audi RS is now in Singapore
Text | Idris Talib
Photos | Editorial Team
08 JULY 2021
There's nothing quite like the exhilarating performance abilities that Audi's RS range offers, and they're now all here in Singapore - take your pick.
There's a lot to love about the RS range from Audi. They all offer tremendous performance credentials, every day practicality and usability, along with a dynamic driving experience unlike any other.
They're all great cars. But the best part? All the new RS models available as of today are now available in Singapore. All of them. That's quite a big deal.
Each Audi RS model has its own set of special qualities that make them great. And this run down will tell you why all of us love them so much.


RS Q3 and RS Q3 Sportback
There is nothing quite like the
RS Q3
. You can have it in your preferred bodystyle - as an SUV or Sportback - but in its heart lies an engine unlike any other.
The 2.5-litre turbocharged five-cylinder engine is one that harks back to Audi's rally days. Both the RS Q3 and
RS Q3 Sportback
make 394bhp and 480Nm of torque.
It is no slouch. Those numbers are fast car numbers. As thrilling as speed is, what charms the most about the RS Q3 is the way it doles all that power down. There is nothing like the sonorous soundtrack from a five-cylinder.
And if you're looking for a silhouette that's a little more sensual, there's the RS Q3 Sportback, too.
And to put that either in calm and understated SUV body, or in a striking and sensous silhouette like the Sportback - whatever your choice, there really is nothing quite as thrilling like it in its class.


RS 4 Avant
The thing about Audis is how approachable they are. They fit in almost any lifestyle, with more practical options, like an Avant if you need more loading space.
Avant is Audi speak for a station wagon. And you can only get the new
RS 4
exclusively as one.
In its performance too it is approachable. A 2.9-litre twin-turbo V6 sends 444bhp and 600Nm of torque to all four wheels.
You are guaranteed to win traffic light races, but it is a car that won't bite you in sticky situations when you're at your own personal limits of fast road driving.
And not to forget the surprise on every other driver's face when they see an Audi station wagon moving away at rapid speed.


RS 5 Sportback and RS 5 Coupe
But not everyone wants a station wagon. The sedan is the traditional choice. But what's the point of being traditional if you have 444bhp and 600Nm of mind numbing torque?
The
RS 5 Sportback
, then, will be your best bet. You get the same firepower, but in a suit that's a little more tailored. In this case, a sloping, coupe-like four-door.
Just like the RS 4 it has been updated with a stronger looking front, along with various infotainment and feature updates that add to the RS driving experience, such as two definable performance driving modes, along with an optional sports exhaust.
And of course, if you prefer, you can go for the full two-door lifestyle with the RS 5 Coupe, too.


RS 6 Avant
Who can forget the
RS 6 Avant
? This writer for sure has not. It is a powerhouse of speed. And everyone gets to enjoy it, with luggage in tow, too.
That's right, this is another fast station wagon from the Audi RS stable. You can get the RS 6 in this generation only as an Avant. And that makes it a little more special.
And power is immense. So are the numbers. 591bhp. 800Nm. If that doesn't surprise you, this is a four-wheel drive station wagon that'll hit 100km/h in 3.6 seconds, and top out at 305km/h without its speed governor, or if you have no government to catch you doing it.
In every gear, and at any speed, the RS 6 always pulls strongly. But of course, you still can turn down the fun and it becomes your regular A6 if you ever need it.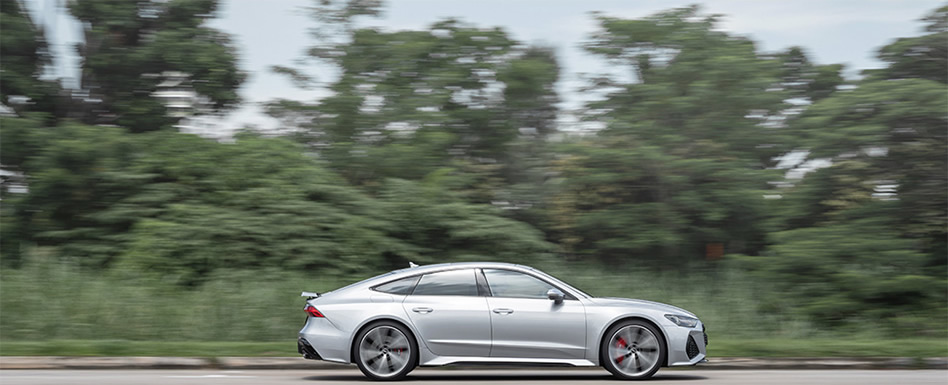 RS 7 Sportback
Again, there's only so much you can do with almost 600bhp and 800Nm if you can't flaunt it just a little bit, right? For the first time ever in Singapore, the
RS 7 Sportback
is here.
This is no sensuous and soft four-door coupe. This is a muscular and aggressive one - wider by some 40mm than the regular A7. And putting that firepower together with these good looks certainly sounds like a good idea.
There's some RS-specific bits that the RS 7 Sportback benefits from, such as its dynamic OLED taillights that offer a distinct RS light show whenever you lock or unlock the doors.
Yes, the same 4.0-litre twin-turbo V8 heart lies in the RS 7 Sportback as it does in the RS6. So expect the same brutal abilities of it, and then some.


RS Q8
Audi RS isn't backing down with its offerings, though. Everyone loves an SUV today. What about a fast, and I mean very, very fast SUV? Even better.
You cannot deny the Audi Q8's good looks. It is tremendous, and offers a lot of road presence without being too over the top.
And that tremendous, twin-turbo V8 powerplant powering the RS 6 and RS 7 Sportback? You'll find it in the
RS Q8
, too.
This is an SUV that only takes 0.2-seconds lesser than the RS 7 Sportback to complete the century sprint. But a clumbersone SUV it is not around corners. It is as sharp a tool as the RS Q3.
It is no surprise, then, that the RS Q8 is the current lap record holder for a production SUV around the Nurburgring Nordschleife.


R8 Spyder and R8 Coupe
Here is a sports car that you never lose any practicality for. It is the
Audi R8
, and it is all updated for 2021. Once available with a quattro all-wheel drive system, you can now have the R8 in rear-wheel drive.
You see, this is a car that still appeals to the true car enthusiast. And yet, offers the flamboyance of a low slung two-door coupe that most would lust over.
Sitting mid-way in the car is a 5.2-litre naturally aspirated V10 that sings, making 532bhp to the rear wheels.
But the familiarity of the R8, just like all Audis, offers it that ability for many to drive a super car every day, for work and leisure, without compromise.
Be it the R8 Spyder or the Coupe that you choose, this is one car that lets yourself and others around you experience the best when it comes to motoring excellence.