THE VOLKSWAGEN GOLF: A WINNING FORMULA
Text | Clarence Seow
Photos | Low Fai Ming
19 August 2021
Not many cars can claim a history that spans eight generations, but the Volkswagen Golf has done just that. We look at just what makes the Golf the quintessential hatchback, and how this winning formula has been improved with its latest iteration.
Ever since the first Volkswagen Golfs rolled off the production line in 1974, the hatchbacks have always managed to win the hearts of families all around the world, offering an unbeatable combination of high value and practicality which has been slowly improved upon over the years and proven so popular the model name has survived to this present day.
And with the first shipment of
Golfs
here in Singapore already sold out, this latest model already looks set to continue on the success of its predecessors. We look at how Volkswagen has once again improved on the Golf's winning formula, and why it continues to be so popular here.
As practical as ever, despite the sleeker look

With the current eighth generation Golf, Volkswagen has improved on the exterior design of the new Golf, giving it a sleeker and visually lowered design. However, that has not compromised on the Golf's long-standing reputation for being a practical hatchback.

The new model leaves shoulder and headroom unchanged for all passengers, making it still the practical hatch for anyone or any occasion. And should those passengers need to ferry extra luggage, a 380-litre sized boot stands at the ready, expanding to a generous 1,237 litres if you fold the rear seats flat.

But there are other practical improvements with the new Golf beyond just space. The new model has been shaped for increased aerodynamic efficiency, for example, and also gets increased underbody paneling.

These improvements aid to cut its drag coefficient from the 0.3Cd of the previous model to 0.275Cd. This means you not only save fuel when driving on the highway, but also get to enjoy a quieter drive while doing so.
More opportunity for individualisation, despite being so popular
While many here in Singapore may already have secured their next Golf, that does not mean you can't stand out from the crowd if you're thinking about buying one yourself!
To start with, there are three different variants available here, so you can add as much sporty character as you'd like. Opt for the Life or Life plus if you're looking for something discreet, while the
R-Line
will surely cater to those looking for something more aggressive, thanks to its lowered ride height and those touch and slider controls in the cabin.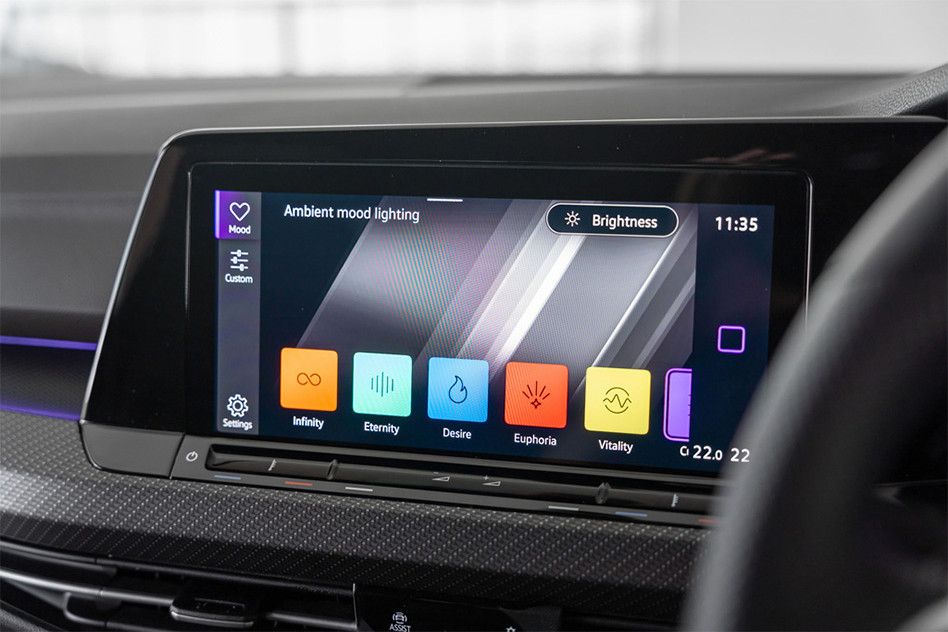 And the scope for personalisation expands further once you step inside, thanks to the Golf's new MIB.3 modular infotainment matrix. The new system allows you to save your favourite settings for items including the air-conditioning, seating position, and exterior mirrors, so you always have your car just how you like it.

Better yet is the fact that you get up to 30 ambient lighting options to choose from, so you can always set the mood up in your Golf as you deem fit. And if that sounds like too much to choose from, then simply pick from Volkswagen's pre-configured options, all selectable from a cool 'mood menu'!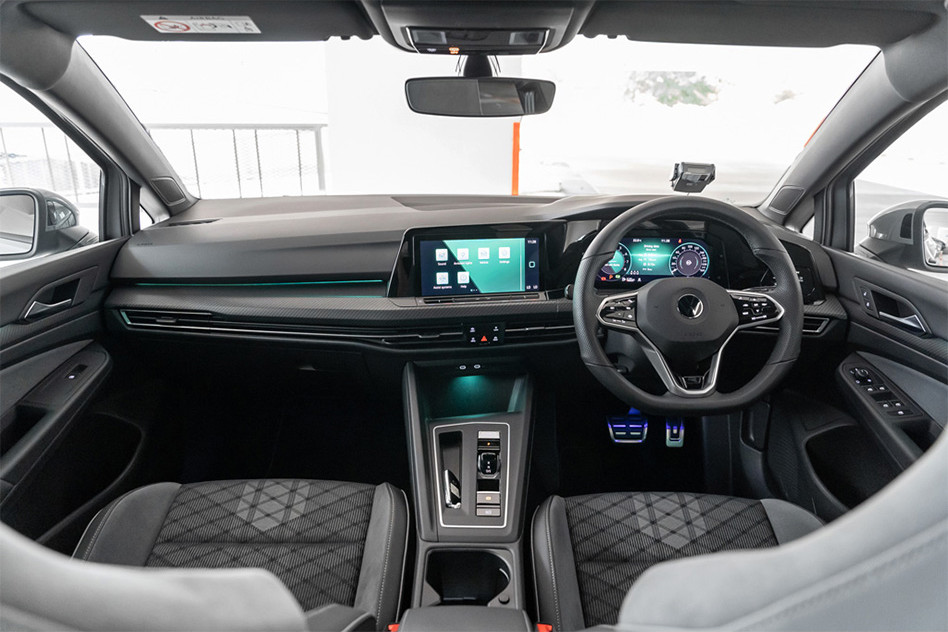 Digital and connected, despite being so familiar

Speaking of MIB.3, the cabin of the Volkswagen Golf has also been reinvented, ensuring that it continues to keep with the new demands for connectedness in today's digital age while still staying fundamentally familiar to those looking to upgrade from the previous iterations.

With the new Mk8 Golf, you get all the intuitive controls and switchgear, assembled up to Volkswagen's familiar high build quality, but the cabin now gets the firm's 10-inch discover pro infotainment system or 8.25-inch composition system and 10.25-inch digital driver's display, designed to be as intuitive to operate as any smartphone.

New features such as voice recognition and wireless Android Auto and Apple CarPlay, also further add to the ease of use of the Golf's newfound connected systems.
Embracing the future, while being down to earth

It's not all just show though, for under the bonnet, the Golf also gets new powerplants that now utilise a host of technologies to improve efficiency.

Here in Singapore, we are getting our Golfs with a 1.5-litre engine equipped with a 48V mild-hybrid system, allowing easy access to the benefits of electrification without any of the hassle of a fully-electrified vehicle.

The new engine also comes with Active Cylinder Technology, which shuts down two of the engine's four cylinders when they are not needed in a seamless, interruption-free manner, ensuring that fuel consumption is kept to a minimum without any disruption to your driving pleasure.