---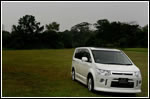 07 Mar 2008
Yes. Japan is littered with MPVs. Mitsubishi, being one of them, refuses to be left out of the game. Coming up with one isn't so simply though, not when the original of this latest people carrier was ...
This model is no longer being sold by local distributors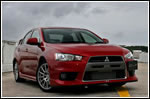 18 Jan 2008
First, it was Subaru's Impreza WRX. Now, Mitsubishi has decided it would follow suit in the face of its lesser competitor, so it went ahead with the X, diluting it in the process. All we're left with ...
This model is no longer being sold by local distributors