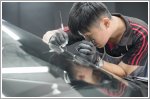 24 Dec 2014
Dr Glass' restoration service makes glass and head light restoration easily accessible and affordable for anyone in Singapore.
Text by Regan Ong, Photos by Low Fai Ming | 15,939 views |
Features
31 Dec 2013
If you need to be reminded about the fragility of human life, just watch a Formula One race car made of whisky glasses shattering into a million pieces.
29 Jul 2008
With the introduction of the new 911 Targa this autumn, Porsche is completing the fastest ever generation change in the 911 model series.