---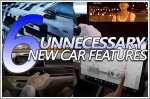 21 Sep 2022
New cars come with the latest and greatest features, right? Well, perhaps not. Here are six features on new cars that we'd much rather do without.
Desmond Chan, Photos by Low Fai Ming and Manufacturer | 12,701 views |
Features
29 Dec 2016
sgCarMart experiences how the all new BMW 7 Series raises the bar with its famed ConnectedDrive, Gesture Control and leading Remote Control Parking function.
Text by Nigel Yong, Photos by Low Fai Ming, Video by BMW Asia | 13,391 views |
Features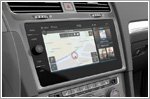 09 Jan 2016
Volkswagen's e-Golf Touch will be one of the world's first compact cars with gesture control functionality, and a new configurable infotainment system.
14 Jan 2012
Mercedes-Benz showcases its vision of gesture-based control for the future: Dynamic & Intuitive Control Experience (DICE)