---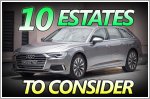 15 Jul 2022
Estates, also known as stationwagons, are a great alternative to SUVs. Here's a list of models we'd consider for various budgets.
Jeremy Chua, Photos by Editorial Team and Manufacturers | 9,384 views |
Car Buying Advice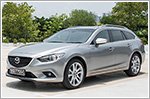 03 Oct 2014
The Mazda6 Wagon looks fantastic on the outside and is well-equipped and comfortable on the inside.
Text by Regan Ong, Photos by Low Fai Ming | 23,994 views |
Mazda Reviews
This model is no longer being sold by local distributors