---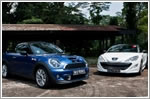 07 Feb 2012
Two sexy coupes, one ultimate showdown. Who will come out tops in this battle of the turbocharged two-door style icons? We find out.
This model is no longer being sold by local distributors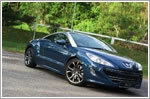 23 Sep 2011
Promising an even more engaging drive with its 6-speed manual gearbox and nearly 50 more ponies under the hood, we find out if this gorgeous coupe can bring the 'go' back in Peugeots...
This model is no longer being sold by local distributors