---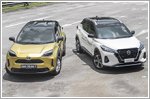 10 Mar 2021
The Toyota Yaris Cross delivers superior fuel efficiency, while the Nissan Kicks e-POWER impresses with its overall quality and refinement.
19 Aug 2020
The Nissan Kicks combines the practicality of a crossover and the electrified e-POWER drive into an affordable package.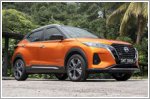 12 Jul 2020
The Nissan Kicks e-POWER provides an affordable option for those looking for electric torque within a crossover body.