---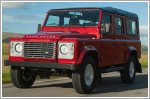 27 Jun 2022
With rising car prices, getting a car can be really hard, let alone getting one to impress onlookers. We find a solution to get around this problem.
Julian Kho, Photos by Manufacturers | 5,216 views |
Features
01 Jan 2020
As 2019 comes to a close, we preview all the new car models that are slated to be launched here in Singapore in the upcoming year.