---
The new and well-appointed Hyundai Elantra 1.6 GLS Elite goes toe-to-toe against segment rivals, the Chevrolet Cruze 1.6 and the Nissan Sylphy 1.6 Premium Signature Series in this family sedan brawl.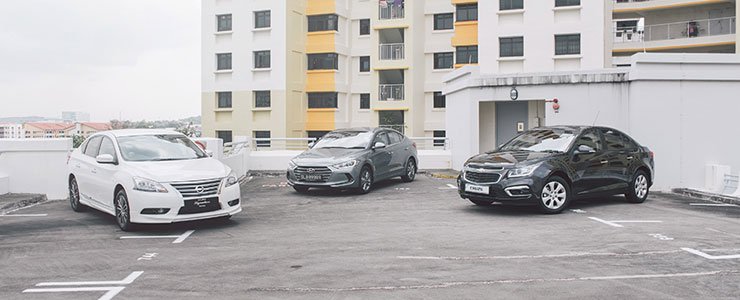 The Monetary Authority of Singapore's (MAS) eased car loan guidelines have made the financing of a car easier, and brought crowds to car showrooms. The
MAS' new rules
encourage those who have been perching on the fence to get one, as the down payment amounts have gone down.
Many of the cars that benefit from this move are motoring staples, like the
Chevrolet Cruze 1.6
, the new
Hyundai Elantra 1.6 GLS Elite
and the
Nissan Sylphy 1.6 Premium
Signature Series.
The newest kid on the block is the new Hyundai Elantra and as we've found out, the car is a superb machine that's priced very reasonably. But does the Elantra shine as bright when grouped alongside the others? 
Before car sales boom and the Certificate of Entitlement premiums inevitably rise, here's a test to help you make a more informed decision, should a compact family sedan be next on your wish list.
Exterior
The Cruze you're looking at has received Chevrolet's latest makeover but not much has changed design-wise. That isn't a bad thing because the Cruze remains a fairly handsome car, characterised by a chunky, muscular body and a bold front end.
Next to the Cruze, the Elantra's balanced proportions and angular creases shines. A sharp, sharking voluminous snout is sporty in comparison to the Cruz and Sylphy, and should seduce younger drivers, in terms of design.
Like the Cruze, the Sylphy is chunky. But, the Sylphy has sharper lines and sexier curves than box-like Cruze. The reason for the Sylphy's fancy image, fancier than the Elantra as well, is the Signature Series kit that it's clothed in.
The Signature Series kit gives the Sylphy a lower, sportier stance and premium-looking touches, which are found on cars more luxurious.
02 Dec 2013
The smaller 1.4-litre turbocharged powerplant gives potential buyers of the Cruze a better reason to smile.
Read more
This model is no longer being sold by local distributors
Engine Type
:
4-cylinder in-line DOHC
Horsepower
:
86kW (115 bhp) / 6200 rpm
Torque
:
157 Nm / 4900 rpm
Transmission
:
6-speed (A)
Acceleration (0-100 km/h)
:
12.5sec
Fuel consumption
:
13.9 km/L
This model is no longer being sold by local distributors
Engine Type
:
4-cylinder 16-valve DOHC Dual CVVT
Horsepower
:
94kW (126 bhp)
Transmission
:
6-speed (A)
Acceleration (0-100 km/h)
:
11.6sec
Fuel consumption
:
15.6 km/L
This model is no longer being sold by local distributors
Engine Type
:
4-cylinder in-line DOHC Twin C-VTC
Horsepower
:
85kW (114 bhp) / 5600 rpm
Torque
:
154 Nm / 400 rpm
Transmission
:
Advanced Xtronic CVT (A)
Acceleration (0-100 km/h)
:
11.7sec
Fuel consumption
:
16.1 km/L