The Kia Sportage's latest update comprises a new, sophisticated design, advanced technologies and an enticing price tag, which should scare rivals like the Ford Kuga and the Nissan Qashqai.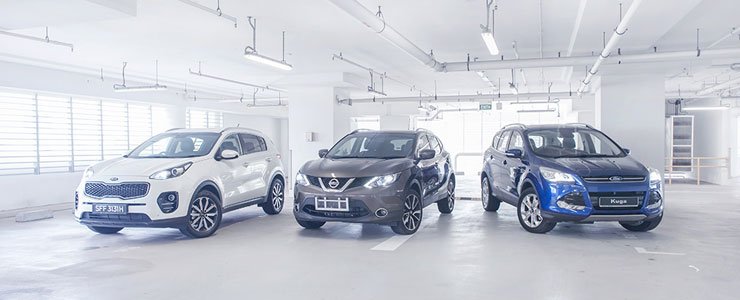 For the past couple of months, the once fast-growing, mid-sized Sport Utility Vehicle (SUV) segment has now toned down quite a fair bit, while sedans like the recently launched
Honda Civic
and the updated
Kia Cerato Forte K3
are enjoying a larger slice of the pie.
However, for those who are unaware, the K3 isn't Kia's only new toy. The Korean manufacturer lately has also released its new
Sportage
, boasting a new, sophisticated design and advanced technologies.
It is customary for us at sgCarMart to put this 'new' kid on the block to the test and alongside the Sportage this month are the turbocharged
Ford Kuga 1.5 Titanium
and the
Nissan Qashqai 2.0 Premium
.
The old 1.6-litre Kuga has met the Sportage before, in a
twin test
we conducted two years ago and emerged victorious. Can the Ford defend its crown? Or is the ever-popular Qashqai and upgraded Sportage going to take the win this time? Let's find out.
Exterior
When it comes to buying an SUV, design and space are of utmost importance; performance is secondary. In this department, the Sportage's contemporary demeanour comes to shine.
Designed under the direction of Peter Schreyer, the Sportage is arguably the most uniquely fashioned car of the bunch.
While the car's form may divide opinions, there is no doubt that its 'tiger-nosed' front fascia and European design influence has the road presence and panache, which the Kuga and Qashqai lack, to draw stares.
That's not to say that the Kuga and Qashqai aren't nice on the eyes, because the Ford comes a close second in terms of visuals but unfortunately for the Qashqai, being the oldest car in this group test means its design is a tad dated today.
This model is no longer being sold by local distributors
Engine Type
:
4-cylinder in-line 16-valve DOHC Twin Variable Cam Timing Turbocharger
Horsepower
:
134kW (180 bhp) / 6000 rpm
Torque
:
240 Nm / 5000 rpm
Transmission
:
6-speed (A) SelectShift
Acceleration (0-100 km/h)
:
10.1sec
Fuel consumption
:
13.5 km/L
This model is no longer being sold by local distributors
Engine Type
:
4-cylinder D-CVVT
Horsepower
:
114kW (153 bhp) / 6200 rpm
Torque
:
192 Nm / 4000 rpm
Transmission
:
6-speed (A)
Acceleration (0-100 km/h)
:
11.1sec
Fuel consumption
:
12.7 km/L

Engine Type
:
4-cylinder 16-valve DOHC
Horsepower
:
106kW (142 bhp) / 6000 rpm
Torque
:
200 Nm / 4400 rpm
Transmission
:
7-speed (A) Xtronic CVT with Manual mode
Acceleration (0-100 km/h)
:
10.1sec
Fuel consumption
:
14.5 km/L