---
For the sensible family man who needs a vehicle to get from point to point, the new Toyota Sienta is a practical, functional and affordable choice.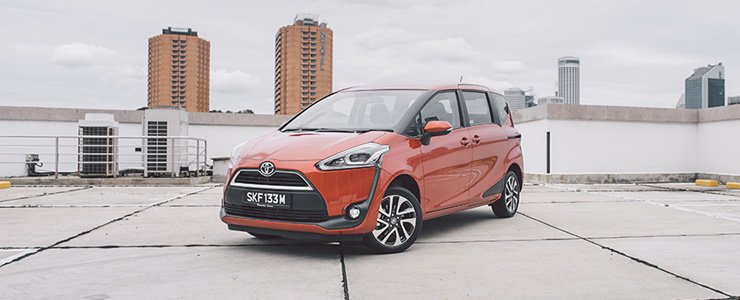 When it comes to buying clothes, there are certainly different sorts of shoppers. Some people will look long and hard for something they want, do the necessary research online and check out multiple places selling that specific item. Some people will walk past a shop, see something that catches their attention and decide, "Hey, I like that. I'm getting that." And then there are some of us who just walk straight into a Uniqlo and make a beeline for the section selling $7.90 t-shirts.
The new Toyota Sienta will be familiar to many - those brought in by parallel importers have already been on the roads for some time, but this one comes courtesy of authorised dealer Borneo Motors.
If there is one word to encapsulate the Sienta, it is 'sensible'. If you are the sort of car buyer looking for practicality, usability and value-for-money, this one is right up your alley.
Here are some essential numbers for the sensible shopper
It's a proper seven-seater Multi-Purpose Vehicle (MPV), and with this higher-spec 1.5 Elegance model priced at $116,888 (as of 19
th
Oct 2016), it's one of the cheapest in the market. In fact, it's second only to the
Honda Mobilio
. If it's space you are concerned about, the Sienta is certainly generous. The car will comfortably sit seven with reasonable headroom and legroom all around.
Boot space can be expanded to 575 litres with the third row of seats folded down. There is a pretty neat system to fold down third row of seats too - it can be tucked underneath the second row, making for a flat and easy-to-load boot.


So, the Sienta is like the $7.90 Uniqlo shirt huh? Is it actually any good?
Well, in many ways it is like a $7.90 Uniqlo shirt, in the sense that you know what you are paying for, and you probably shouldn't expect much more than that. The Sienta is designed as a practical people-mover, and it is certainly more utilitarian than luxurious.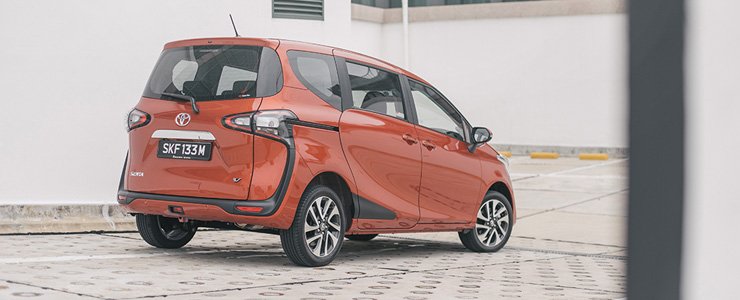 Visually, the available paint finishes (from Super White, Orange Metallic to Quartz Brown Metallic) add a touch of quirkiness to an otherwise boxy-looking vehicle. Enter the car, and you get the sense that Toyota has designed the car with an understanding of what such drivers want - simple, easy-to-use controls, practical storage solutions, a straightforward interior design, and powerful front and rear air-conditioning.

How is it like to drive, though?

Again, the numbers will appeal to the price-conscious. The 1.5-litre engine, combined with the continuously variable transmission, is a pretty efficient powertrain. We managed to achieve 14km/L while driving with a relatively light foot, which isn't far off from the listed 16.1km/L figure. That's pretty good for seven-seater MPV that weighs 1,325kg.


You get 105bhp and 140Nm of torque from the 1.5-litre powerplant. From a standstill, the engine does feel rather weak. However, once you get up to speeds beyond 60km/h, it's fairly brisk and easy to drive on the highway.
However, noise insulation isn't the greatest, the ride quality is rather willowy, and there's not much in the way of steering feedback. Still the Sienta does a perfectly fine job as a point-to-point vehicle.


Is it worth buying?

Yes, it's definitely worth what you are paying for. It's a sensible and practical people-hauler that's good for burgeoning families. And it's a Toyota after all, so it's going to be dependably reliable, affordable to upkeep and easy to live with.

For some people, that is what a car needs to be, and the Sienta certainly fits that mould. Sensibility can be a wonderful thing.

Engine Type
:
4-cylinder in-line 16-valve DOHC Chain drive with Dual VVT-i
Horsepower
:
78kW (105 bhp) / 6000 rpm
Torque
:
140 Nm / 4200 rpm
Acceleration (0-100 km/h)
:
12.8sec
Fuel consumption
:
16.1 km/L