---
The Lexus RX350 provides more fun and joy from the driver's seat, thanks to its silky-smooth gearbox and the samurai-strong powerplant.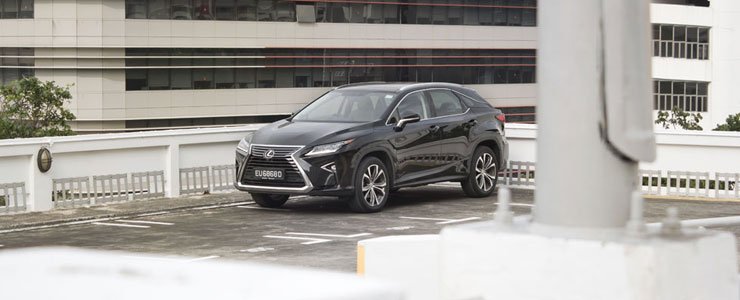 With the advancement of technology and the help of brilliant designers and engineers, Sport Utility Vehicles (SUVs) have become more handsome-looking and they appear a lot more spacious on the inside without coming across as bulbous on the outside.
Carmakers all around the world have obviously recognised this quick-shifting trend. The Alfa Romeo Stelvio, the
Bentley Bentayga
, the
Jaguar F-PACE
and the
Lamborghini Urus
are testaments to that.
Uh… Okay. What's your point again?
Patience, my young one. We're getting to it.
Understanding the need to keep up with the fierce competition, Lexus took a bold step out of its comfort zone to recreate its RX SUV without making it unrecognisable. Not only is it a handsome-looking vehicle that comes along with ample road presence, thanks to an edgier sheet metal that doesn't look out of place when parked next to a
BMW X5
, the cabin is a feast for your eyes and an absolute comfort for your fingers.
From the cushy seats and door panels to the dashboard and the controls, there is nothing that looks out of place. Run your fingers around the cabin, including places that you would hardly come into contact with, and everything feels expensive to the touch.
More importantly, space is of abundance in this luxury SUV. Rear passengers of up to three will be enjoying head, shoulder and legroom fitted for royalty, thanks to the RX's high roof as well as a flat transmission tunnel, which will undoubtedly put a smile on the centre-seating occupant's face.
In a segment that's becoming more popular and thus competitive, being able to stand out as a convincing luxury vehicle in many other ways - particularly the interior - says a lot about the carmaker taking pride in its cars.
Does that mean it drives a lot better than before then?
In our humble opinion, it most definitely does. Mated to a silky and seamless eight-speed gearbox, the 3.5-litre V6 powerplant is a smooth criminal that's responsible for the car's spritely behaviour on the road. In that aspect, you floor the right pedal and you'll get to the 100km/h mark in just 7.9 seconds. For a car weighing over two tonnes, it is nothing short of respectable.
You get the usual three choices of driving mode - Eco, Normal and Sport - each of which has its own characteristics that is suggested by the word itself. But with a delivery that's linear, consistent and not to mention, quick, leaving the drive in Normal mode is more than sufficient to get to get you from point to point in a luxurious and fuss-free manner.
With its biggish proportions, the law of physics do come into play when manoeuvring around arcs at slightly higher speeds but it's never uncomfortable. While its daring sheet metal do influence your thoughts about the RX being sporty, the Lexus is still an SUV that tops it segment when it comes to comfort and luxury.
Will this be a better choice over the turbocharged variant?
That highly depends on what you prefer and how nicely cushioned your pocket is. We are supporters of big and naturally aspirated engines. Hence, we very much prefer the car you see here. The
RX200t
, while just as smooth and luxurious, comes with a smaller 2.0-litre powerplant that's married to a six-speeder.
However, the RX350 does come at a premium of $338,000 (as of 10
th
November 2016), which is a significant $60,000 more than the RX200t. While you would be spoilt for choices with this amount of money, you'll have to put into consideration that the luxury Japanese carmaker is, undoubtedly, synonymous with reliability and top notch aftersales service - something not many carmakers can keep up with.
So whichever variant you decide to go for, you can be rest assured it'll be a sound choice.
This model is no longer being sold by local distributors
Engine Type
:
V6 24-valve DOHC Dual VVT-iW
Horsepower
:
221kW (296 bhp) / 6300 rpm
Torque
:
370 Nm / 4600 rpm
Transmission
:
8-Speed (A)
Acceleration (0-100 km/h)
:
7.9sec
Fuel consumption
:
10.4km/L