---
Popular amongst Uber drivers, the quirky and economical Toyota Sienta takes on the punchy Volkswagen Caddy in a contest for family MPV supremacy.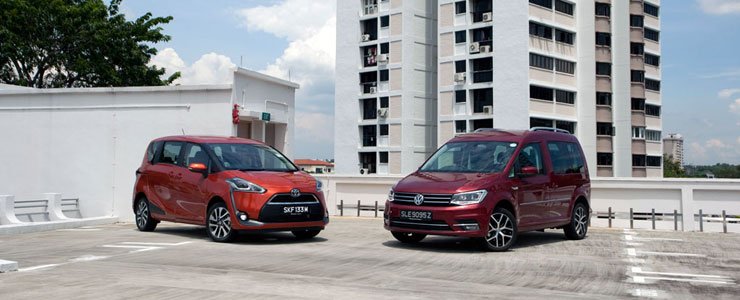 As much as I'd love to own a hot hatch for as long as I live, the reality of life is that we'd likely get hitched, become parents and give in to Multi-Purpose Vehicle (MPV) ownership.
I used to bemoan the idea of such a reality, but I suspect many car manufacturers have heard my animalistic cries because slowly but surely, the MPV is evolving and improving. And because of this, I have begun not hating them quite as much.
Two of such cars, which have remarkably changed my perception are the
BMW 2 Series Gran Tourer
and the
Honda Jade RS
but, that's another story for another time. Today we study two cars, which aren't as sporty, but more economical and just as purposeful, if not more. Let's find out whether the
Toyota Sienta
or the
Volkswagen Caddy
makes a nicer family pet.
Visual value
Until private-hire companies decided to use the Sienta for services like Uber, plying our roads like a sea of ants in a forest, we found the Sienta to be quite pleasing to our eyes. Inspired by an 'urban tracking shoe' design, the quirky Sienta cuts quite a distinctive figure on the road. Its futuristic lines make it a more eye-catching car, compared to its hearse-like competitor.
To be fair, despite the Caddy's unpopular boxy shape, it's the tougher and more premium of the two. It sports a front-end familiar to the new generation Volkswagen models - the fascia is remarkably similar to the new
Touran
.
Living spaces
However, exterior design is but a secondary concern for MPV buying - space and comfort on the inside are of utmost importance.
Inside the $9,012 cheaper Sienta (as of 11
th
November 2016), you get a cabin clad in hard plastics. Everything from the seats, knobs and infotainment system are cheaper to the touch than the its German rival's.
While driving, there is also significantly more road and wind noise echoing through its cabin. Nitpicking aside, at the end of the day, Toyota knows that Sienta buyers are after ultimate practicality rather than a plush interior. And, it's in the practicality department where the Sienta doesn't disappoint.
Boot space can be expanded to 575 litres with the third row of seats folded down. There is also a neat system to fold down the third row of seats - they can be tucked underneath the second row, making for a flat and easy-to-load boot.
In the Caddy, the dashboard is cleanly designed, ranks high on quality and refinement, and you get the usual sense of German familiarity and user-friendliness.

Engine Type
:
4-cylinder in-line 16-valve DOHC Chain drive with Dual VVT-i
Horsepower
:
78kW (105 bhp) / 6000 rpm
Torque
:
140 Nm / 4200 rpm
Acceleration (0-100 km/h)
:
12.8sec
Fuel consumption
:
16.1 km/L
This model is no longer being sold by local distributors
Engine Type
:
4-cylinder in-line 16-valve TSI Turbocharged
Horsepower
:
92kW (123 bhp) / 6000 rpm
Torque
:
220 Nm / 3500 rpm
Transmission
:
7-speed (A) DSG
Acceleration (0-100 km/h)
:
10.9sec
Fuel consumption
:
17.2 km/L