We finally get behind the wheel of the Mazda CX-3, a stylish city crossover that packs a punchy 2.0-litre engine.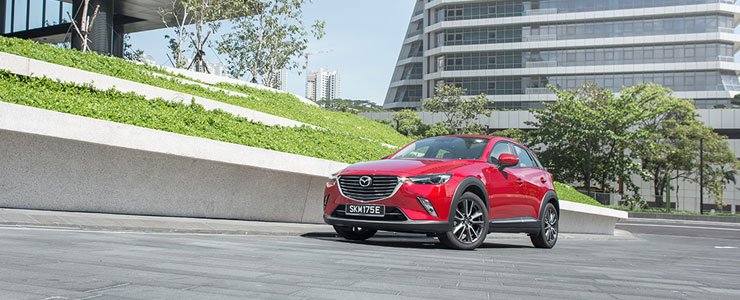 We spend a large part of our lives waiting. Tourists queue in the cold for Harajuku Gyozaro's gyozas in Tokyo, tech-nerds spend days queuing for new iPhones while more recently, local sneakerheads queued outside the Adidas Originals store for a pair of BAPE x Adidas NMDs.
As much as we think queuing is an utter waste of life and time, more often than not, what we get at the end of the long line is thoroughly worth the wait.
The highly anticipated
Mazda CX-3
arrived in Singapore a good six months ago but it's only until recently that we managed to get our hands on it.
The CX-3 is Mazda's way of capitalising on an expanding trend of compact crossovers, here to take on the likes of the
Honda HR-V
, the
Mitsubishi ASX
and the
Nissan Juke
.
Even before we met the CX-3 in the flesh, it's always presented itself as one of the more stylish and desirable cars in its segment. But is it worth our six-month wait? Let's find out.
What's the story?
More compact than a
CX-5
, Mazda's latest creation's name might hint that it's a higher-riding version of the
Mazda3
. But, that's not quite true because the CX-3 is more closely related to the
Mazda2
Hatchback - in fact, it looks very much like a stilted Mazda2.
However, instead of the Mazda2's bantam 1.5-litre engine, the CX-3 is powered by a 154bhp, 2.0-litre unit producing 204Nm of torque which, for its size, is quite a rarity.
Paired to Mazda's six-cog auto, the CX-3's lively powertrain sends the car from 0-100km/h in 9.5 seconds. And it isn't just the high compression, naturally aspirated engine that spreads a smile across our faces either.
The CX-3, despite being a compact crossover, handles very much like a hatchback - a happy, excitable, eager to go one. In the ever-important department of driving dynamics, the CX-3, amongst its peers, is second to none.
When the fun ends and sensible family driving begins, the CX-3 responds by becoming a quiet and comfortable cruiser.
This model is no longer being sold by local distributors
Engine Type
:
4-cylinder in-line 16-valve DOHC SKYACTIV-G
Horsepower
:
115kW (154 bhp) / 6000 rpm
Torque
:
204 Nm / 2800 rpm
Transmission
:
6-speed (A)
Acceleration (0-100 km/h)
:
9.5sec
Fuel consumption
:
16.4 km/L