The second generation BMW X1 sDrive18i X Line is back to take on its updated rival from Ingolstadt, the Audi Q3 1.4 TFSI S-tronic.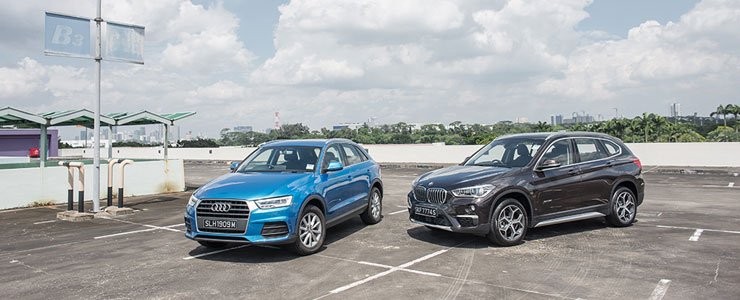 Five years ago, BMW decided to ship a compact Sport Utility Vehicle (SUV), the
first generation X1
to Singapore, bringing a sporty, premium face to the segment.
And, as it turned out, the X1 became a hot favourite on our roads. Its achievements in Singapore was ensued by the awakening of a dozing giant - its arch nemesis from Ingolstadt, Audi. The
original Audi Q3
joined the party for a slice of the pie a year later, giving Performance Motors a run for its money.
Fast forward to 2016 and we have the
X1 in its second generation
, continuing its crusade against the
updated Q3
. The Q3 has proven to be a competent, quiet and comfortable runabout, but can BMW's new baby X show Audi who's on top?
A question of styles
The X1's angular body lines and sharper contours overshadow the Q3's tamer body shape. From afar, and to untrained eyes, the X1 is even easily mistaken for its larger sibling, the
X5
. In some ways, the X1's long front end also gives it the guise of an estate rather than an SUV.
What's more, the X1's more stylish set of 18-inchers also edge out the Q3's dinkier 17-inch set, which may be considered relatively monotonous and predictable by modern standards, to some.
But, we aren't saying the plainer Q3 is ugly by any means. To many car buyers, a clean design goes a long way, and minimalistic styling is one of Audi's strong-points, which car buyers have come to love.
The Q3's present-day display may be just a slight nip-and-tuck of what it was five years ago, but that's because Audi has decided that maybe it's best not to ruin a proven, working formula.
And, one thing's for sure, Audi certainly knows its way around designing a pair of headlamps.
Lives on the inside
Inside, the X1 is typical BMW - a sensible, mature cabin design, warm ambient lighting and a rock-solid build, which leaves almost nothing to complain about except for a few plastic panels. But, as questionable as those shiny black bits are, quality in general ranks high.
However, one of the things we noticed when in the driver's seat is how low the position is.
Seating position in the Q3 is higher, and that's a trait most buyers of such cars might prefer because a greater view of the road ahead makes for a more confident drive.
This model is no longer being sold by local distributors
Engine Type
:
4-cylinder in-line 16-valve DOHC Turbocharged
Horsepower
:
112kW (150 bhp) / 6000 rpm
Torque
:
250 Nm / 3500 rpm
Transmission
:
6-speed (A) S tronic
Acceleration (0-100 km/h)
:
8.9sec
Fuel consumption
:
16.7 km/L

Engine Type
:
3-cylinder in-line 12-valve
Horsepower
:
100kW (134 bhp) / 4400 rpm
Torque
:
220 Nm / 1250 rpm
Transmission
:
6-speed (A)
Acceleration (0-100 km/h)
:
9.7sec
Fuel consumption
:
17.9 km/L