Toyota's popular Corolla Altis gets a mid-life update, with a host of improvements to give it a much more appealing proposition.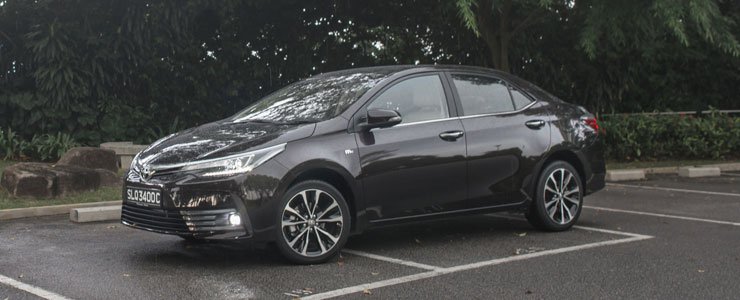 As Singapore's best-selling car, there is simply no escaping the
Toyota Corolla Altis
. You may have owned one, driven one, learnt to drive in one, or even if you're not a driver, sat in one as a private-hire car. Such is its dominance on our roads that it's hard to go five minutes without spotting an Altis drive past you in Singapore.
Despite its popularity, the Altis is not without its detractors. Critics bemoan its relatively unexciting drive and lack of modern features as compared to some of its rivals. While it hasn't curbed the Altis' appeal to the masses, Toyota believes that there's always room for improvement, and has thus updated its most popular model to better prime it against some of its fiercest competitors like the
Honda Civic
and the
Mazda3
.
Family face
The changes to the facelifted Altis are small but significant enough to make a difference. Visually, the revised front end design is the most noticeable thing about the updated model. The grille is now streamlined and uses a fair bit less chrome now, giving it a more youthful stance. The LED headlamps, too, are now sharper and slimmer. Overall, the Altis' front fascia comes across as a touch more aggressive and sporty-looking.
The changes to the rear are more minor in nature, with only a slight redesign of the taillights being the key difference. It's one of those that you really have to squint to spot, but it doesn't really matter because the Altis is still a good-looking family sedan with a modern and refreshing styling.
Family space
Similarly, the inside of the updated Altis gets a few tweaks here and there. They're just small little things no doubt, but they serve to make the interior feel a bit more premium and special. For example, the air-con vents at either side of the dashboard are now round in shape, and the controls for the air-con have now been redesigned to mimic the ones on the
Toyota Prius
.
Overall build quality is still solid, if unspectacular. There are still a few scratchy plastics, notably on the top of the dashboard and on the steering wheel, but they're compensated by the nice glossy Piano Black finish around the centre console and gear selector.
It is the things you don't see, though, that really impress. For the first time, the Altis comes with seven airbags and Vehicle Stability Control (VSC) as standard. The addition of these safety features not only brings greater assurance to the thousands of family men who drive the Altis on a daily basis, but also sends a strong message to those who claim that the Altis is lagging behind its competitors in the safety stakes - a claim that no longer holds true.

Family pace
Powering the Altis is the familiar 1.6-litre Dual VVT-i petrol engine that we all know and love, but Toyota has tweaked it slightly to give the car a more responsive drive. Power has upped from 121bhp to 128bhp, while the torque figures have also increased slightly, from 154Nm to 160Nm.
Together with a slightly sharpened CVT-i gearbox, the updated Altis is now a much more engaging car to drive. Acceleration is as smooth as ever, and there is a notable absence of that rubber band effect that afflicts many CVT transmissions. If you didn't know it, you might even mistake it for a traditional automatic gearbox.
The Altis has never been a sporty car to drive, and it makes no pretensions to be. For what it is, though, the Altis acquits itself pretty well when pushed, offering solid stability and plenty of composure if you're feeling a bit enthusiastic with your driving. Its greatest strength is its refinement, offering a smooth and comfortable ride, exactly the right ingredients to please the family man.
The other noted strong point of the Altis is its fuel efficiency, and Toyota claims that this latest version is able to achieve an average fuel consumption of 16.3km/L. Over a weekend of driving we managed about 13km/L, which while quite a fair bit off, is still a respectable figure in its own right.
Family grace
The latest updates to the Altis may not be major or groundbreaking, but they do enough to make it a more attractive proposition to a wider audience. It still holds all the qualities that will appeal its core customer base of family men, but the enhanced safety features and sharpened drive helps the Altis become a much more complete package than before.
Whether you end up driving one or riding in one, you can be assured that the Altis now has the capabilities to keep you safe and happy. It truly fulfils its objective as a family car for the family man.
This model is no longer being sold by local distributors
Engine Type
:
4-cylinder in-line 16-valve DOHC Dual VVT-i Valvematic
Horsepower
:
96kW (129 bhp) / 6400 rpm
Torque
:
160 Nm / 4400 rpm
Transmission
:
7-speed (A) Super CVT-i with Sequential
Acceleration (0-100 km/h)
:
-
Fuel consumption
:
16.3 km/L