We pit the popular Toyota Altis against its arch nemesis, the well-rounded tenth generation Honda Civic.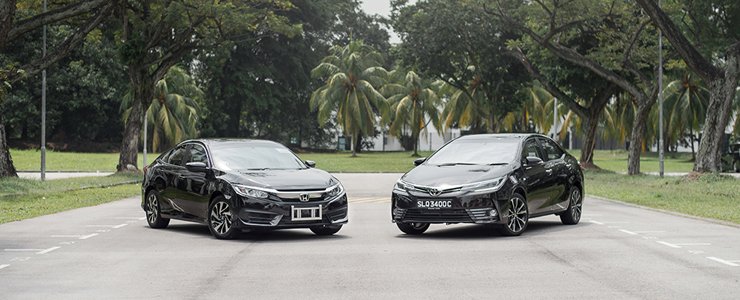 When Singaporean car buyers shop for a sensible family sedan, the
Honda Civic
and the
Toyota Altis
are names that they'll immediately gravitate towards. And it's no surprise because for decades, these archrivals have been known for their Japanese reliability, low running costs as well as outstanding resale values.
With the current generation Civic, Honda is looking to right the wrongs of its predecessor and it has done a mighty fine job doing so.
However, wanting to maintain a competitive edge, Toyota has responded with a facelift of the 11
th
generation Altis, giving it a new engine, subtle interior tweaks and improved safety.
Are the Altis' updates enough to make it a better buy than our
sgCarMart Car of The Year 2016
winner?
First impressions
With its recent nip and tuck, the Altis has grown to be a little more youthful, thanks to a more streamlined grille and slimmer headlamps.
They make a small but significant enough difference to the car's once fuddy duddy image but side-by-side, the Civic does exude more presence with a meaner-looking face, lower stance and fancier sportback design.
The Civic, too, is easily perceived as the more executive-looking car because of its larger dimensions, masking the fact that it's actually cheaper and rides on smaller 16-inch wheels than its rival at time of writing.

Inner workings
The Civic continues to impress on the inside with a more futuristic and higher quality fit and finish than the Altis. While both cars are made in Thailand, the Civic will easily fool anyone into thinking that it was built in Japan or even Europe.
There is less use of tacky plastics throughout its interior, while the overall look and feel afforded by more soft-touch materials is also a notch more superior.
At the same time, the Civic's more driver-focused seating position means that you get a sportier experience behind the wheel, while passengers at the back get to enjoy rear air-conditioning, a feature not found in the Altis.
Space wise, both cars offer a comparable amount of legroom although the Altis does have significantly more headroom, especially at the rear. The Civic's comeback is 519 litres of cargo capacity, an impressive volume over the Altis' 470 litres.
That's not to say the Altis doesn't have its merits. It recoups some lost points in the features department with the availability of an electric driver's seat and navigation system, which the Civic unfortunately doesn't have.

Engine Type
:
4-stroke SOHC i-VTEC Water Cooled
Horsepower
:
92kW (123 bhp) / 6500 rpm
Torque
:
152 Nm / 4300 rpm
Transmission
:
Earth Dreams CVT (A)
Acceleration (0-100 km/h)
:
11.6sec
Fuel consumption
:
14.9 km/L
This model is no longer being sold by local distributors
Engine Type
:
4-cylinder in-line 16-valve DOHC Dual VVT-i Valvematic
Horsepower
:
96kW (129 bhp) / 6400 rpm
Torque
:
160 Nm / 4400 rpm
Transmission
:
7-speed (A) Super CVT-i with Sequential
Acceleration (0-100 km/h)
:
-
Fuel consumption
:
16.3 km/L