The Audi A5 Sportback is a good-looking five-door coupe that drives like a sports car and hauls like wagon.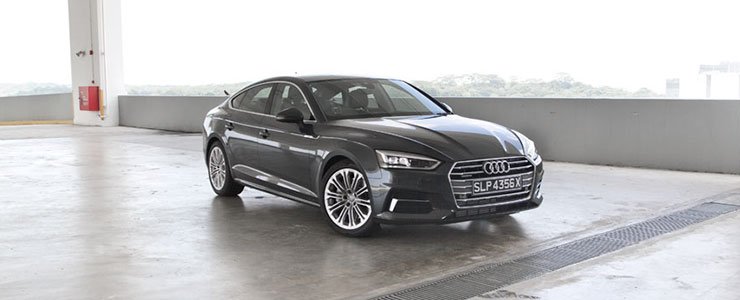 Not many carmakers can say that their cars can drive like a coupe and have the functionality of a stationwagon. But it seems Audi may have successfully done so, thanks to its ingenious packaging capabilities.
The A5 Sportback that you see here is a five-door version of the A5 Coupe, which remedies the coupe's shortfalls by providing more rear space for passengers and a bigger cargo-carrying capacity to boot without compromising on its abilities to dance on the tarmac like its two-door sibling.
Epitome of an all-rounder
As such, it's not easy to fault a car like the A5 Sportback. On the go, the car gets things done with a satisfying sense of urgency. The 2.0-litre powerplant sends out 252bhp and 370Nm of torque to all wheels in a decisive and linear manner, which takes away the sudden bursts of power surge that's often associated with smaller displacement turbocharged cars.
That said, the car is not without its flaws. We will have to recognise that the A5 Sportback is not as fun to drive as the
BMW 4 Series Gran Coupe
. While the Audi is all direct, linear and fast, it lacks the BMW-like dynamism that makes driving a fun-loving and engaging experience, not thanks to a steering that lacks communication.
And it's because of this, diving into corners translates to the fact that A5 Sportback feels more composed and confident rather than fun and furious.
This isn't such a bad thing, really, because around town, where Singaporeans spend a lot of time driving, the A5 Sportback dances gracefully over broken surfaces while handling tidily, with body movements down to a minimum even when sweeping round a bend at higher speeds.
Also tidy is the wide and deep boot space. Always having an eye towards function, the A5 Sportback offers 480 litres of luggage capacity, which is more than sufficient for a couple of Callaway golf bags and even the monthly road trip up North.

Pretty car driving down the street
From the cultured frontal fascia and classy-looking rear to the sporty silhouette and audacious creases, the A5 Sportback undoubtedly sports one of the most stylish designs in its class.
In fact, a car like the BMW 4 Series Gran Coupe, which serves as its closest rival, appears somewhat dated and unadventurous when parked next to the Audi.
Of course you could always argue that the A5 Sportback merely resembles the
Audi A3 Sedan
and the
Audi A4
but in our eyes, the car you see here clearly differentiates itself as a carriage that's meant for the more sohpisticated and higher class.
And this sophistication and, perhaps, intelligent intricacy can be experienced on the inside of the car as well. Everything you see here tells you just how much thought has been considered before putting the bolts and screws togeher in place.
You had me at ingenious packaging capabilities
Although it's an inevitable argument that the BMW 4 Series Gran Coupe is the more fun car to drive, it's the Audi A5 Sportback that offers a more complete and all-rounded package.
As a matter of fact, the Audi is the kind of car that will hardly go unnoticed with its modern art design and more so to buyers who are looking for a capable hauler with the functionality of a stationwagon. Combine this with a classy cabin and you'll get a car that's not only practical and comfortable, but also glamorous and desirable.

Engine Type
:
4-cylinder in-line 16-valve Turbocharged
Horsepower
:
185kW (248 bhp) / 6000 rpm
Torque
:
370 Nm / 4500 rpm
Transmission
:
7-speed (A) S tronic
Acceleration (0-100 km/h)
:
6sec
Fuel consumption
:
15.6 km/L