The new Honda CR-V is now much better looking than before, and packs a punchy 1.5-litre turbocharged engine.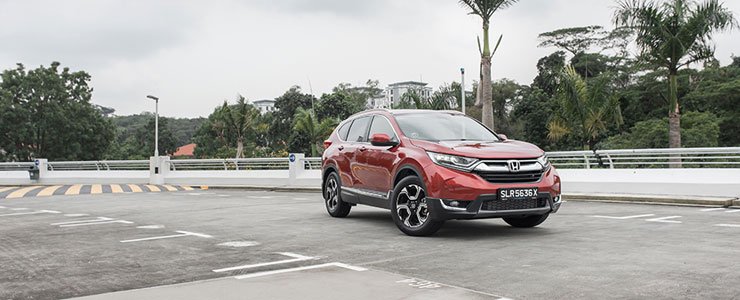 How do you go about designing a Sport Utility Vehicle (SUV)? On one hand, you could go the whole nine yards and make an all-terrain, all-conquering vehicle. The
Land Rover Discovery
(five iterations of it) is case in point, a car that's equally at home on the road as it is on rocky unpaved surfaces.
On the other hand, you could go down the 'soft-roader' path, which is what Honda has been doing with the
CR-V
(short for 'Comfortable Runabout Vehicle') since it debuted in 1995. Since its introduction to the market, the CR-V has always had a clearly defined purpose - to be a sensible and practical SUV for drivers who will spend 100 percent of their time on properly paved tarmac roads.
Looking good, baby
Yes, the new fifth generation CR-V is definitely a much better-looking car than its predecessor. Seven-seater SUVs tend to be boxy and utilitarian-looking, but the curvy sheet metal and sleek silhouette help the CR-V break away from that stereotype. It's a rather good looking car, this one.
The CR-V has also been rather cleverly packaged, such that it actually looks more compact than you'd expect.
Bigger on the inside
The car is available as a five or seven-seater (for the first time), depending on your needs. We drove the seven-seater, and the interior is relatively spacious. A large sunroof adds to the sense of spaciousness and airiness inside the cabin.
The second row has pretty generous leg room, but if you want maximum leg room in the second row, don't expect to be seating anyone comfortably in the last row of seats. As a seven-seater, it's usable if you have kids, but seven full-sized adults will struggle.
However, the interior is on the tacky side, with a combination of hard plastics and fake 'wood' trim. The build quality also isn't the best, evident by the way the gear lever rattles slightly. The 7.0-inch infotainment system looks pretty modern and clean, but the actual interface isn't the most polished. Also, we find that the screen is sited at an angle that makes operation by the driver a tad awkward.
The seven-seater variant also gets some additional goodies. These include the panoramic roof, eight-way powered lumbar support driver seat and four-way powered front passenger seat, one-push smart entry, power tailgate, automatic LED head lights and front fog lights, front and rear parking sensors, and walk away auto lock.
Punching through
The CR-V is now powered by a punchy 1.5-litre DOHC turbocharged engine, producing 190bhp and 243Nm of torque. It's a strong engine, and pulls well when it comes on boost. As far as driveability goes, the engine is more than capable to haul the 1,640kg CR-V along.
In the driver's seat, the car may look deceptively small, because of the way the hood dips quite sharply downwards disguising its size. But this is still a full-size SUV, so manoeuvring within a small multi-storey carpark can still be slightly heart-stopping. But other than that, the CR-V is a straightforward and easy car to drive.
However, the engine is quite lacking as far as aural refinement goes. It is pretty noisy once you rev it past 2,000rpm. It's a car that may actually be more pleasant to drive in 'Econ' mode (which dampens throttle response) than in normal mode.
The ride is comfortable enough, and the handling is what you'd expect from a large seven-seater SUV, with some body roll through corners. And being a SUV for the city, the CR-V is being offered in Singapore with front-wheel drive only. From a practicality stand point, it makes perfect sense - no point having a heavier all-wheel drive system on a car that has no intention to go off-roading.
The brakes are electrically assisted, and in our opinion, a tad snatchy at the top, though not deal-breaking. The Lanewatch feature is extremely useful, allowing you to have clear visibility of your blindspot. This makes filtering left safer and more convenient, especially since the CR-V is quite large. However, we do wish the centre screen is angled slightly more towards the driver for easier viewing.
Comfortable runner
Honda clearly understands the whole point of the CR-V - it's a family car with no off-roading delusions. It's a car that has a clearly defined purpose, and certainly achieves that. It's all about running about comfortably, and the CR-V certainly manages that.
$164,999. That's the magic number here. Is the CR-V worth this sort of money? Well, on initial sticker price it's probably a little on the pricey side. If it's pure utility you are after, there are seven-seater multi-purpose vehicle options like the
Seat Alhambra
and the
Volkswagen Touran
, which have a tad more premium interior. However, where the CR-V has a leg up over such models is its stylish exterior design.
Additionally, people who buy Hondas are also buying into the brand's famed reliability and mechanical quality - so once you factor that into account, the price tag is certainly sensible enough.


Engine Type
:
4-cylinder in-line 16-valve DOHC VTEC Turbocharged
Horsepower
:
142kW (190 bhp) / 5600 rpm
Torque
:
243 Nm / 5000 rpm
Transmission
:
Earth Dreams CVT (A)
Acceleration (0-100 km/h)
:
9.4sec
Fuel consumption
:
13.6 km/L