---
We pit the beautiful Jaguar F-TYPE against its toughest rival, the 718 Cayman, to find out if it can transpose your want for a Porsche.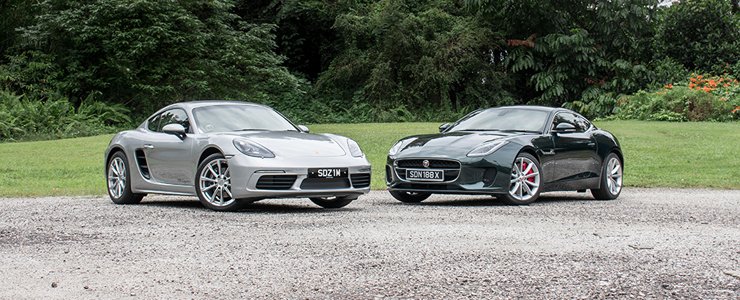 The new
Jaguar F-TYPE Coupe 2.0
and the
Porsche 718 Cayman PDK 2.0
have both proven to be highly desirable two-seater sports cars that provide gorgeous styling, precise handling and, of course, plenty of poke.
If you are facing a mid-life crisis or are the lucky offspring of an affluent businessman in the market for a sporty coupe, it is tough to go wrong with either of these cars.
But when push comes to shove, which one should you really put your money on?
Even though dollars don't really make much sense for anyone with deep enough pockets for cars like these, it's important to note that despite having the entry-level Porsche in its crosshairs, the base F-TYPE costs $46,722 (as of 5
th
January 2018) more than the Cayman.
Is the Jag's close to $50,000 premium over the Porsche justified?
Kerb appeal
Well, styling might be a strong point of justification, depending on tastes. While the designs of Porsche's cars have been improving subtly over the generations, they remain more evolutionary as opposed to the revolutionary design of the F-TYPE.
Whether it's speeding past Orchard or roosting behind the gates of a private home, it's undeniable that the sharper-looking F-TYPE oozes a tad more style than the Cayman and will break more necks.
Having said that, the Cayman is still a compact and pretty thing by any standards; its shape all too familiar but very nicely executed.
The good news continues inside the Jaguar, which feels and looks like a gorgeous place to spend time especially with the $10,000 optional sports bucket seats our test car came with, albeit a little less well-finished in general. Headroom offered, too, is a little lesser than in the Cayman.
But the way its cabin wraps around you and how the air-con vents above the centre console rise when you push the start offer a little more wow factor.
What it loses in theatrics, the Cayman's largely business-like cabin makes up for in spades with interior materials that are well chosen. It's a solidly constructed, marvellously effective cabin, with buttons and switches exactly where you'd hope they'd be.
It's in its own right - all rather brilliantly and ruthlessly German.
Let slip the dogs (or cat and stallion) of war!
While both cars are powered by force-fed 2.0-litre four-cylinders to their rear wheels, there's a basic yet crucially important difference between them.
The F-TYPE is front-engined, while the Cayman is mid-engined. The latter's mid-engine layout translates into better weight distribution, better balance and, of course, better handling overall, which is noticeable once you get them going a little hard and fast.
The Cayman feels lower and more lithe, carving through bends where the F-TYPE may have taken a split second to find its footing.
Its steering, too, is the sharper tool here - heftier, more communicative and mercilessly accurate, accompanied by a pair of fitly weighted and placed foot pedals.
Despite that, the F-TYPE is not without its merits. Jaguar has done a fantastic job of making the handling as controlled and responsive as possible and there's a resolve, precision and assuredness to its dynamics that's hard to fault.
But surprisingly, even when you're in the mood for a little drag racing, it's again the less powerful Cayman that shines.
That's because while the F-TYPE has 1bhp and 20Nm of torque more than the 295bhp, 380Nm Cayman, it's the heavier car here and its eight-speeder Jaguar Sequential Shift isn't as slick as its rival's seven-speed PDK.
And then, there's how they sound. Thanks to its engine sitting so much closer to the driver, the Cayman's more audible soundtrack of reverberations and whooshes makes the sports car experience more enjoyable, even though it isn't as delightful as the old
2.7-litre
.
The deep boom of each of its PDK gear changes, too, adds to the sense of occasion. Sadly, while the F-TYPE's Ingenium heart is without a doubt a capable piece of engineering, it's not as pleasant-sounding a car, despite the pops and cackles its exhaust makes above 3,000rpm.
So should you pay $46,722 for ownership of an F-TYPE over a Cayman?
As much as we'd like to say yes because it's a charismatic car, we'd have to be honest with how the Cayman simply is the better car to drive. As a product, the F-TYPE may be more appealing, but there's so much about the Cayman that makes it such a great sports car. Being the more affordable one of the two is an added no brainer.
Then again, if you were the lucky offspring of an affluent businessman, why not get both?

Engine Type
:
4-cylinder in-line 16-valve Turbocharged
Horsepower
:
221kW (296 bhp) / 5500 rpm
Torque
:
400 Nm / 4500 rpm
Transmission
:
8-Speed (A) Jaguar Sequential Shift
Acceleration (0-100 km/h)
:
5.7sec
Fuel consumption
:
13.9 km/L

Engine Type
:
Flat 4 Turbocharged
Horsepower
:
224kW (300 bhp) / 6500 rpm
Torque
:
380 Nm / 4500 rpm
Transmission
:
7-speed (A) PDK
Acceleration (0-100 km/h)
:
4.9sec
Fuel consumption
:
14.2 km/L