The Porsche Panamera Sport Turismo is a fantastic-looking estate that delivers everything you expect it to.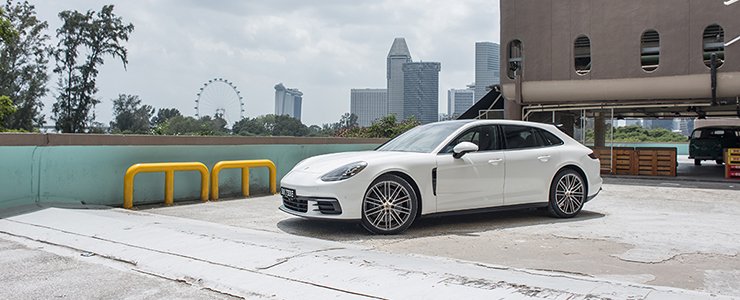 Oh how far the
Porsche Panamera
has come. When first introduced to the market back in 2009, the Panamera was widely lampooned for being an ugly car with its bulbous proportions and massive backside. And yet, it proved popular, appealing to buyers who wanted a Porsche but also needed to be a family man, without having to cave in to a sport utility vehicle.
The second generation Panamera, launched in 2016, saw significant improvements all round. Of course, one of the most noticeable changes was to the way the car looks - tauter, leaner and recognisably more
911
-like.
And now, there is perhaps the best-looking one of them all - the Porsche Panamera Sport Turismo.
Hello gorgeous...
The Panamera Sport Turismo is quite simply an estate variant, and it is absolutely stunning to look at. Just look at it! With a sharp nose, elongated body and muscular yet angular rear end, the Panamera Sport Turismo definitely has a spaceship-esque quality about it. It looks sleek, futuristic and ready to rocket away.
Does the estate body style translate to greater space and utility? Well, sort of. There's better headroom at the rear as you get a flatter roofline instead of the sloping roofline in the saloon variant.
And you get a bigger boot. Well, four percent bigger. 520 litres in the Sport Turismo compared to the regular car's 500. Not exactly life changing. The boot is slightly more practical in the sense that the new tailgate offers a much wider loading aperture, and the loading lip is also set lower, making loading cargo slightly easier.
No surprises...
Beyond that, the car drives so similarly to the standard version we might as well call it identical. It's perhaps not surprising - the length, width and wheelbase are the same, you get the same choice of engines, and it has the identical mechanical bones of the standard Panamera.
This car is specced slightly differently compared to the standard variant we drove - it doesn't have the Sport Chrono package and its additional dynamic adjustments, for example. But, as with all Porsches, that is simply just one mouse click away - an endless options list awaits you (and your hopefully sizeable wallet).
What that means, is that the Panamera Sport Turismo is still a joy to drive. It's a well-planted car that tackles corners with extreme competence, yet still delivers a pliant ride. Comfortable, effortlessly powerful and with handling other cars of its ilk can only dream of, this car offers you a fantastic combination of sportiness, comfort and luxury.
Absolutely stunning...
Ultimately, we reckon anyone buying the Panamera Sport Turismo is really in it for one reason - the way it looks. Yes, it offers additional utility compared to the standard Panamera, but who's buying a Porsche and concerned about practicality? That's like buying a Macbook Air and complaining that it's too thin.
The second generation Panamera is a deeply accomplished and well-rounded car, offering a sublime combination of performance, luxury, comfort and practicality. That comes at a price, but it is a Porsche after all.
With the Sports Turismo, the Panamera achieves a whole new level of style and visual drama. In our eyes, the Panamera Sport Turismo is a gorgeous-looking car. And to be frank, it is not just one of the best-looking estates in the market right now, we reckon it's one of the best-looking cars, period. Is that not reason enough to want one?

Engine Type
:
V6 Turbocharged
Horsepower
:
243kW (326 bhp) / 6400 rpm
Torque
:
450 Nm / 4900 rpm
Transmission
:
8-speed (A) PDK
Acceleration (0-100 km/h)
:
5.3sec
Fuel consumption
:
unknown