The fifth generation Seat Ibiza is a handsome hatch that's fun-to-drive and spacious enough for small families.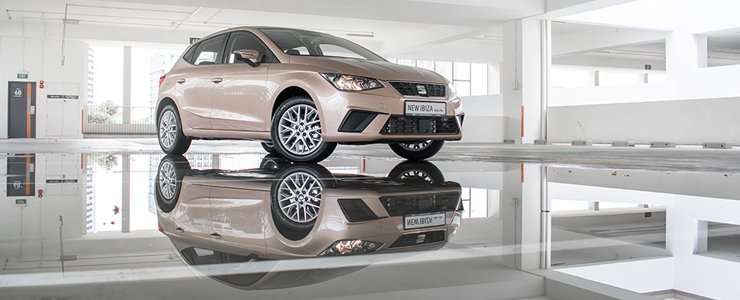 Like the
Arona
, the new fifth generation Seat Ibiza sits on the Volkswagen Group's MQB A0 platform. In fact, it's the first model to benefit from it. Yes, Seat's pulled off a coup of sorts by getting it first for the Ibiza.
And the benefits of the new platform are quite obvious. While the Ibiza is now slightly shorter than the car it replaces, it's wider and has a longer wheelbase, which translates into 35mm more rear legroom.
Boot space has also benefits from the new underpinnings, up to 355 litres from 292, which is just a smidgen shy of class leader Honda Jazz's 363 litres.
There's improved pace alongside the improved space
But the improved maturity isn't just attributed to an increase in roominess all around. Like the Arona, the Ibiza has a grown-up feel that's very much like the bigger award-winning
Leon
.
It's remarkably quiet on the go, even when you work its 1.0-litre three-cylinder engine overtime, although you never really have to because it's not exactly slow.
Armed with 114bhp and 200Nm of torque, the zippy Ibiza will go from 0-100km/h in 9.5 seconds.
The way it moves and rides, too, boast a marked improvement. It's comfortable enough, more so than many cars a class above, while also eager and generally composed through tight twists and turns.
It's a car that seems to enjoy being driven spiritedly, especially with a steering that sends just enough feedback to inform you of how well the front tyres are coping.
It may be light on finances but quite generously finished
For a price tag of $88,900 (as of 19
th
April 2018), the Ibiza is also better built than most would expect.
Everything on the inside feels sturdily assembled, with the leather on the steering wheel of reasonably high-quality and the smatter of Volkswagen switchgear reasurringly solid enough.
The touchscreen infotainment system, too, is the best one currently offered in its class. It's crisp, clear and highly sensitive to your touch.
And the way it's now designed; grown-up but in a fun, sharply styled way, adds onto the long list of reasons why you should definitely have a look at one if you're in the market for a super mini.

Engine Type
:
3-cylinder 12-valve Turbocharged
Horsepower
:
85kW (114 bhp) / 5500 rpm
Torque
:
200 Nm / 3500 rpm
Transmission
:
7-speed (A) DSG
Acceleration (0-100 km/h)
:
9.5sec
Fuel consumption
:
21.2 km/L