The Mercedes-Benz C-Class C350e is a relaxed cruiser that proves plug-in hybrids can hold their own against their petrol and diesel brethren.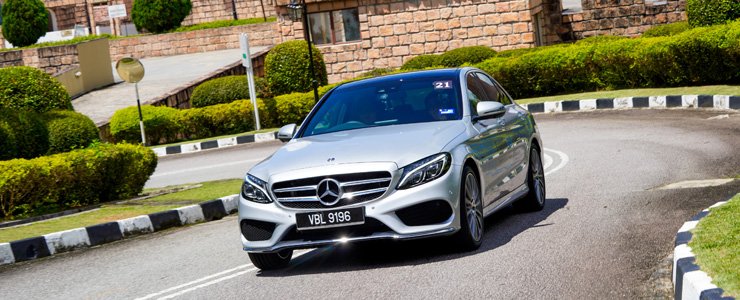 We drove the
BMW 330e iPerformance
last year and were rather impressed by its handsome looks, refined and punchy powertrain, as well as the comfortable ride it provides. This is Mercedes' answer to the 330e - the Mercedes-Benz C-Class C350e.
So how does it fair against the Bimmer? We got behind the wheel of the German carmaker's plug-in hybrid in Kuala Lumpur, Malaysia, recently to see what makes it tick.
Unfortunately, within our first 10 minutes of taking over the test car, we almost wrapped ourselves around a tree, thanks to a power steering failure (which, apparently, wasn't the first time it had happened).
So that's it, then?
Not quite. We quickly got a replacement car and were well on our way. Compared to its BMW rival, the Merc doesn't handle quite as well, but what it lacks in agility, it more than makes up for in cruising ability, which shone through on the highways up North.
Though unsettling to those more accustomed to sonorous exhaust notes or droney CVTs, we found the quietness of the powertrain to be rather pleasant. That, coupled with Mercedes' AIRMATIC air suspension, made for a comfortable ride through the city and on the highway.
A 2.0-litre four-cylinder petrol engine, coupled with an electric motor producing a total system output of 275bhp (205kW) and 600Nm of torque, is mated to a seven-speed automatic 7G-TRONIC PLUS with an additional clutch between the combustion engine and electric motor. This allows it to complete the century sprint in 5.9 seconds and go on to a top speed of 250km/h. In comparison, the 330e does it in 6.1 seconds.
Though not particularly punchy, the Merc's trump card is its low emissions and fuel consumption figure.
We didn't manage to spend enough time with the car to get a substantial figure, but what we're looking at is a combined fuel consumption figure of 48km/L and combined CO
2
emissions of 48g/km on paper. It seems ambitious, but if it gets anything close to that in real world driving conditions, we'd be pretty impressed.
Sounds great, but isn't it still a bit too early to jump on the plug-in hybrid bandwagon?
Our charging infrastructure here is definitely still in its infancy, but plug-in hybrids certainly do have a place on our roads today. On top of low carbon emissions (made even more crucial, thanks to the
Vehicular Emissions Scheme
) and improved fuel efficiency over petrol and diesel engines, plug-in hybrids provide instant torque from their electric motors, which make it great for overtaking inconsiderate road hoggers.
On a side note, the C350e also comes with Pre-Entry Climate Control as standard, which may not sound like much, but definitely comes in handy in a tropical climate such as ours. This allows you to pre-cool the car before you even set foot in it.
That begs the question, which to get? The 330e or the C350e? That depends entirely on you. If you're in it for driving dynamics, go with the Bimmer. But if you're looking for a calm and relaxing driving experience, the Merc is the way to go. Don't just take our word for it though, you'll be able to see it for yourself once it arrives here, along with the E350e, some time in Q3 2018.