The BMW M5 Competition amps up the ante on an already monstrous car, with more power, sharper handling and ridiculous capability.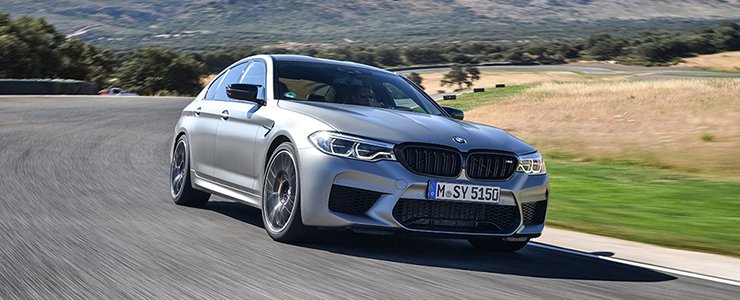 We've only fairly recently gotten the brand new F90
BMW M5
, a car that brought a fair number of radical changes to the brand's fabled super saloon. It ditches tyre-shredding rear-wheel drive for grip-inducing all-wheel drive. A seven-speed dual-clutch gearbox makes way for an eight-speed torque converter. And oh, it's really quite big, too.
But all that's said, we found it to be a fantastically accomplished car. It packs absurd amounts of power, while still delivering agility and handling that belies it size, truly living up to its reputation as a driver's car.
So, what has BMW M done? Well, they've quite quickly now given us a more hardcore version of the M5. Hoo boy.
Crazy train


Let's be clear of one thing - the M5 doesn't need more power. The standard model already kicks out a frankly absurd 591bhp and 750Nm of torque. So of course, the M5 Competition gives you more power, to the tune of 617bhp, while torque remains at 750Nm. This cuts the 0-100km/h timing by 0.1 seconds to 3.3 seconds.
The M5 Competition is supposed to be a sharper, more focused car with improved track capabilities, so BMW M has made a range of mechanical modifications as well. Model specific engine mounts have a higher spring rate to improve the sharpness of turn-in.
The chassis is now 7mm lower, with special damper hydraulics and 10% stiffer springs in the suspension. The camber at the front axle has been increased, while the rear has had its toe links and anti-roll bars modified.
So what has all those changes done to the car? Well, they have quite simply made it better to drive.
Loony tunes


We had a chance to drive the M5 Compeition around the Ascari Circuit, and the improvements to the car's handling are noticeable. Turn-in is sharper and more positive, and the car has an agility that's just mind-boggling for a four-door luxury saloon (which it technically is).
There's massive amounts of grip, helped by the xDrive system and the huge tyres. The sharpened front end makes for violent and vicious cornering if you so demand, generating lateral G forces to smack your insides about.
Flick the DSC off (which we were told to do), and the M5 Competition does become livelier and less brutally clinical. Exit a corner too enthusiastically and you can feel the rear beginning to step out.
But ultimately, your driving experience is consumed and overwhelmed by the car's sheer power. Getting a little sloppy in a corner? Power out. Straightening out of hairpin? Power. Flying down a straight? Power, power, power. It's hard to really focus on anything else when the next corner in the distance is suddenly and immediately upon you. And the M5 Competition deploys that power so immediately and effectively that it goads you on to use even more power.
Admittedly, it's not the same kind of smooth rhythmic enjoyment you'd get in a less powerful car, such as the
M2 Competition
. In the M5 Competition, it's a staccato rhythm - brutal, effective, instant, and ruinous for your neck. Still, we can't deny that we enjoyed it thoroughly.
Going places


You may be thinking, a stiffened and sharpened M5 means it's more harsh on normal roads, right? Well, we found that the extra stiffness hasn't compromised the ride quality too much. The M5 Compeititon still works as a grand tourer.
However, we did find that 'Sport' mode was the best setting for the suspension, at least around bumpy b-roads surrounding the Ascari Circuit. In 'Comfort', however, there's a bit too much travel in the suspension that leads to the car feeling bouncy and not as planted.
Driven sensibly, the M5 Competition is comfortable enough. Yes, it's slightly firmer and sharper, but not back-breaking, even in the stiffest suspension setting. The steering is also more positive, offering better feel and precision when turning into corners.
Plant your foot down and boom, you're instantly doing 150km/h on a 50km/h stretch of road. The M5 Competition is still a thoroughly frightening car seemingly capable of teleportation. Tarmac simply vanishes under the bonnet, and you are absolutely over any speed limit in no time at all, regardless of whichever gear you are in. It's a license killer, this car.
Power


Is the M5 Competition better than your standard M5? Yes, it is objectively a better car, though the differences are subtle. But that said, we're not quite sure the M5 had any real flaws that needed straightening out. The M5 already feels like a car on strong steroids. This is just, well, stronger steroids.
Does BMW M need to make the M5 Competition? Probably not. But that's beside the point. The M5 Competition exists because the company wants it to. It proves a powerful point, saying, "Look, this is what we are capable of". You don't need a faster M5, but you sure as hell can have a faster M5.
Next up in the M hierarchy would likely be an M5 CS. We're not sure what that car will be like (probably kind of nuts), but one thing is for sure - power, power, power.