The new Subaru Forester is sharper to drive, rides more comfortably and has a more spacious and upmarket cabin.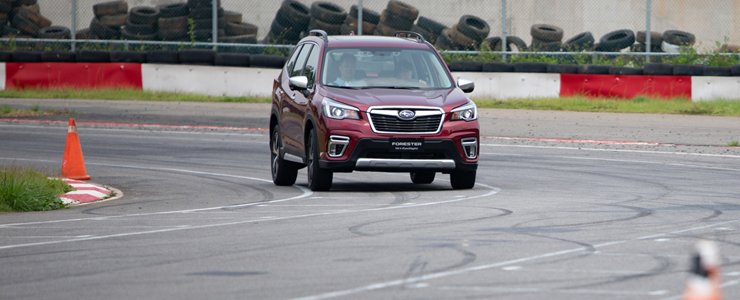 It's not everyday a carmaker lets you drive its best-selling family SUV around an FIA-approved go-kart race track. But when it does, you can bet your bottom dollar it has something rather interesting to prove.
And in the case of Subaru, that's just what it did when Motor Image launched its all new,
fifth generation Forester
in Taiwan last week. A portion of the test drive was held at Lihpao International Circuit, a tight and twisty technical karting track that's surprisingly large enough for actual cars.
Sounds cool, but why?
The purpose of which was to showcase just how much the
Subaru Global Platform
(SGP), which already unpins the
XV
and the
Impreza
, has benefitted the new Forester. And while our time on the track was limited, it was enough to reveal the glaringly obvious.
Thanks to the new platform, a revised suspension system and steering rack, and the company's tried and trusted all-wheel drive system, the new Forester stays impressively flat throughout even the tightest of corners and turns in with great accuracy. It displays a shocking agility that seems to defy the laws of physics and belies the Forester's grown proportions.
Coupled with a new naturally aspirated 2.0-litre, which makes 154bhp (+6bhp) and 196Nm of torque, and a new CVT transmission with seven-speed manual overriding, the new car feels noticeably lighter and more agile on its feet than its predecessor.
It's not the gutsiest of powertrains, but it's enough for the 1,580kg SUV to get around with relative ease. Its brakes have also been tweaked to deliver a grippier initial bite, in addition to improved stopping power.
More importantly, the chassis and suspension changes also mean that the new Forester is more composed, whether over bigger bumps and undulations or smaller ruts on the road.
Awesome to know, what else is new?
Aside from the improved dynamics, the new Forester also offers more passenger and cargo space, being slightly longer and wider all around.
There is now 20mm more space between the driver and front passenger, while those in the back enjoy 33mm more legroom than before. As a matter of fact, it is the roomiest and airiest Forester to date.
Fold down the rear seats and you get a total of 1,775 litres of cargo-carrying capacity, a whopping 251-litre improvement over the outgoing model. At the same time, the rear opening has been widened to 1,300mm for easier loading and unloading. And an electric tailgate, which was previously only available on the XT variant, now comes standard across all variants.
Elsewhere, new touches include a new dash fascia, a larger 8.0-inch display, separated seatback pockets for more convenient storage, rear-seat air-conditioning and two rear-seat USB charging ports. The new cabin also employs high-quality plastics and soft-touch materials.
For Singapore, the Forester will come standard with Subaru's
EyeSight
active safety system, which includes automatic pre-collision braking, pre-collision throttle management, adaptive cruise control, lead vehicle start alert, lane departure and lane sway warning.
Unfortunately, our beloved XT no longer exists
While the new Forester is bettered in just about every way, Subaru fans will admittedly be disappointed by the fact that the turbocharged 238bhp XT will no longer be produced, with the company citing reasons of poor demand, despite the XT totalling half of Forester sales in Singapore.
A new direction for Subaru, however, is the addition of an e-Boxer petrol-electric hybrid to the Forester lineup, which we can expect to see in Singapore within the next 12 months. But for those who prefer sticking to the regular petrol-powered model, the new Forester will be launched in Singapore by the end of this year.