The Volvo V40 now comes equipped with a turbocharged 2.0-litre engine that packs plenty of punch.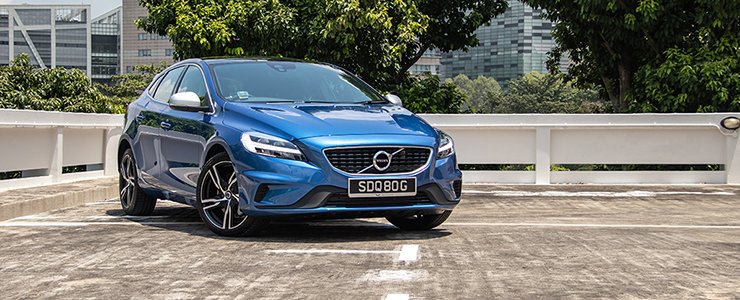 One notable impact of the new
Vehicular Emissions Scheme
is that it has made authorised car dealers reconsider and adjust the model variants that they bring in, as they try to juggle between the cost and the tax surcharge on emissions, while still trying to offer good value to customers.
Case in point - the
Volvo V40
. This entry-level Volvo hatchback was launched back in 2015, with the T2 variant offered in Singapore. Now, the T2 model (which attracts a $20,000 surcharge) makes way for the more potent T4 model (which attracts a lower $10,000 surcharge).
T2? T4?


This is Volvo's way of naming its engines. The T2 is a turbocharged 1.5-litre engine with 122bhp and 220Nm of torque. The T4 variant, on the other hand, packs a turbocharged 2.0-litre engine pushing out a generous 187bhp and 300Nm of torque.
With ample oomph on tap, the V40 is quick and perky to drive, with 0-100km/h taking 6.9 seconds. Maximum torque is delivered at just 1,300rpm, so the car accelerates immediately and effectively.
The car is also comfortable and easy to drive - the suspension is nicely damped, steering is accurate (if lacking in any feel), and overall, the car's compact size makes it really easy to drive. While the power figures may suggest it, this isn't a hot hatch. No, it's very much a comfortable, practical and sensible hatchback, albeit one with quite a bit of speed.
So it's the same car with a different engine?


That is technically accurate, though the V40 you see here is the R-Design trim (the higher-trim level above the entry 'Momentum' model). In this particular guise, you get a different front grille, sportier-looking front and rear bumpers, contrasting side mirrors in silver, as well as fetching 18-inch alloy wheels.
Inside, there are some slight enhancements as well, all from the R-Design basket of items. A slightly different steering wheel sits in front of a digital dashboard with an 8.0-inch digital display, while you also get a smattering of R-Design trimming in the cabin, including different carpets and pedals. The most noticeable difference you will notice is the panoramic glass roof that comes standard with this specific trim that we tested.
It all makes for a highly functional and surprisingly comfortable cabin. We especially like the front seats, which offer good support and plenty of cushioning. It's somewhat cramped in the rear quarters, though. Four will fit just fine, but five adults will be a bit of a squeeze.
Plus, the cabin is showing its age - the phone-like numberpad on the centre console looks like a dinosaur compared to the futuristic iPad-like infotainment system of the newer Volvo models.
Bigger engine means more expensive, right?


On paper, the difference between this car and the equivalent T2 model would be $10,000. It's a small enough difference that buyers would likely reach for the T4 model, which packs more power under the bonnet. It's for this reason that this T4 variant now replaces the T2 in the brand's model lineup here in Singapore.
A larger capacity engine also means higher running costs and a higher annual road tax. So yes, it is more expensive, but it's an expense worth making for a car that is powerful, comfortable and premium. And, considering this is the cheapest Volvo you can buy right now, it's quite an enticing entry into the premium segment if you are looking for a hatchback.
This model is no longer being sold by local distributors
Engine Type
:
4-cylinder in-line 16-valve Turbocharged
Horsepower
:
139kW (187 bhp) / 4700 rpm
Torque
:
300 Nm / 4000 rpm
Transmission
:
6-speed (A) Geartronic
Acceleration (0-100 km/h)
:
6.9sec
Fuel consumption
:
18.2 km/L