The fourth iteration Hyundai Santa Fe is a spacious and well-equipped seven-seater SUV that doesn't disappoint in the safety department.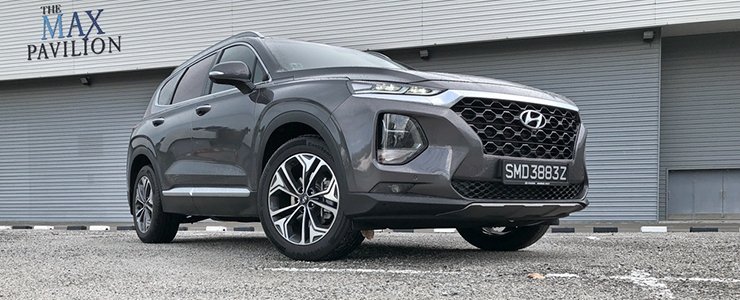 There's hardly anything to dislike about the new Hyundai Santa Fe, more so if you like the idea of a seven-seater SUV.
Yes, the latest SUV from the Korean carmaker will fit seven occupants, even if the third row is best left for kids. That's actually nothing to complain about since it's the case for most seven-seater SUVs in the market right now.
So how does this car stand out then?
Where the Santa Fe differentiates itself from the rest of the pack is in its high levels of standard equipment as well as safety features.
Our test car came with a 7.0-inch touchscreen infotainment system with Bluetooth connectivity, electric seats with memory, auto hold function, ventilated seats and wireless smartphone Qi charging system.
These features, while may sound trivial and marketed, are ones that most drivers will use on a daily basis. There are no unnecessary features that are hardly utilised such as gesture controls, SOS buttons and e-mailing functions. Just highly functional ones.
More functional than form, too, are the safety aids that come with the car.
Apart from the commonly-specced blind spot monitor, the Santa Fe comes with a useful feature that keeps the child lock active by preventing rear doors from opening if the car detects oncoming traffic. It also comes with radar sensors in the rear bumpers to alert you when reversing out from a parking lot.
But more impressively, and rarely heard of, is a feature that sounds off the alarm if movements in the car are made - maybe by a frightened kid or a grumpy dog - once you've locked the car and walked away.
It must be expensive to be so well-equipped!
At $169,999 (as of 22 November 2018), you can hardly find a car that's this comprehensive in its class. The
Kia Sorento
comes close in terms of its features, but falls short in the safety department.

Bigger on the road, easy on the eyes
As detailed as its features is the Santa Fe's sheet metal. The Hyundai SUV looks modern, sharp and menacing, which always helps to get road-hogging private-hire drivers out of the way when you're gunning down the first lane on the expressway. Of course the SUV's sizeable proportions do add to its road presence.
However, unlike many large SUVs, the Santa Fe's bulk isn't a cause for worry in tight spaces. It's easy to place on the roads - something that helps boost drivers' confidence, especially if you're a pint-sized driver like this storyteller here.
There's more from where that came
On the move, the full-sized SUV manages to get up to speed in a linear and rather swift manner, thanks to a decent helping of 182bhp and 238Nm of torque from its 2.4-litre powerplant.
As such, there is no issue keeping up with the pack on highways or even from the lights. You could choose to drive it in Sport mode, which hastens the car's conduct, but because the revs are going to leave you shaken rather than stirred, we left it in Comfort mode most of the time.
And that's not all that bad, really. In fact, it'll be an acceptable choice of mode to drive in, always, since buyers of the Santa Fe are going to prioritise space, safety features and comfort over thrilling speed.
A good balance of function and form
In that sense, the Santa Fe excels as a seven-seater SUV. It does its duty well by providing more than what it should, with a nice mix of appealing design that's just enough to give it that perfect blend without looking over the top.
But the icing on the cake has to be its price. For all that you're getting, it is something that's truly hard to beat.

Engine Type
:
4-cylinder in-line 16-valve DOHC
Horsepower
:
136kW (182 bhp) / 6000 rpm
Torque
:
238 Nm / 4000 rpm
Transmission
:
6-speed (A)
Acceleration (0-100 km/h)
:
10.4sec
Fuel consumption
:
10.2 km/L