The mid-spec Hyundai Avante S is a value-for-money compact sedan that will appeal to many buyers.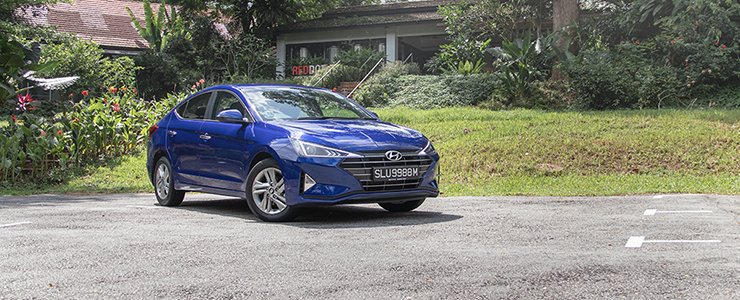 The facelifted Hyundai Avante is being offered in three trim levels - 1.6, 1.6 S and
1.6 Elite
. You will probably have read our review of the Elite variant, the top-spec model.
This here, the mid-spec 1.6 S, is typically the best-selling variant of the three, promising the best value-for-money proposition to buyers. So, there's just one simple question to answer here - which variant should you buy?
So what's the difference, then?
Mechanically, the Avante is the same across all three trim levels. Power is wrought from a 1.6-litre engine, paired to a six-speed automatic transmission. As we've mentioned before, power delivery is sufficient and surprisingly brisk, and we've got no real complains with the powertrain. The ride, too, is supple yet still stable at high speeds.
So the equipment level is different, right?


Where the two depart, obviously, is in equipment levels. In this S variant, you're missing out on LED head lights, rain sensor, driver memory seat, ventilated front seats, Blind Spot Detection and Safe Exit Assist. Also, the S gets a smaller 3.5-inch LCD screen in the dashboard cluster, and the air-con controls are of the manual variety, instead of the full dual climatic air-con in the Elite.
That said, the S is still reasonably well-equipped, with enough of the key essentials. A 7.0-inch infotainment system with Apple CarPlay and Android Auto, wireless smartphone charger, drive mode select and reverse camera all come as standard.
Should I pay the difference?

Overall, we find that the equipment levels in the S should suffice for most drivers, especially those that are perhaps looking to replace their almost 10-year old car. It's familiar, fuss-free and easy to live with, while still having enough key essentials (Apple CarPlay/Android Auto makes a ton of difference) to meet the needs of modern drivers.
Admittedly, the cabin doesn't feel as modern as the Elite variant, especially with the old-school manual air-con controls. The question, of course, is price. The S variant, priced at $79,999 (as of 10 January 2019), is $7,000 cheaper than the Elite variant.
Personally, we think that if you can stretch to the Elite, there's really no reason why you shouldn't. The two key equipment upgrades that are entirely useful are the ventilated seats and blind spot detection. Trust us, there's nothing better than having ventilated seats when getting into the car that's been parked under the hot sun for a full day.
But, if it's just sheer value that you are looking for, then the Avante 1.6 S certainly ticks all the right boxes.

Engine Type
:
4-cylinder in-line 16-valve DOHC
Horsepower
:
94kW (126 bhp) / 6300 rpm
Torque
:
155 Nm / 4850 rpm
Transmission
:
6-speed (A)
Acceleration (0-100 km/h)
:
11.6sec
Fuel consumption
:
14.9 km/L