The new I-PACE is an impressive first electric model by Jaguar that's as fun to drive, as spacious and as luxurious as its futuristic sheet metal suggests.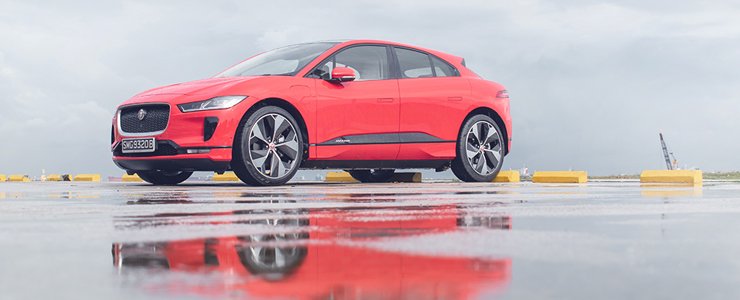 The I-PACE is Jaguar's third SUV, after the
F-PACE
and the
E-PACE
, and its first electric production model; the concept
C-X75
in Spectre was only a concept. And for a first stab at electrification, it's absolutely brilliant.

Here's why
For starters, there's the way it looks. Although it's built to be an SUV, it looks quite unlike one. It appears more like a biggish, sporty hatchback. Thus, coupled with its sharp, dramatic lines and the way it appears to hug the road, the I-PACE oozes a ton of road presence.
And it hasn't been designed just to look pretty. From its pronounced wheel arches and its flushed door handles to its rear diffuser, every crease and vent are made so that the I-PACE can slice cleanly through the air for maximum range and stability.
To put that into context, the airflow generated from the front to rear of the car is powerful enough to blow water off the rear windscreen, eliminating the need for a rear wiper.
And then there's its cabin
Inside, it's equally pleasing, not just to the eyes but also to the touch. The materials used, and overall fit and finish of the I-PACE's cabin is a clear step-up from Jaguar models before, while its design perfectly complements its futuristic nature.
Central to this are three digital displays - the instrument cluster, main infotainment screen (with Apple CarPlay connectivity) and a secondary one below, which serves as an instrument panel for air-conditioning.
Supercar-inspired pushed buttons, too, replace Jaguar's familiar rotary gear selector, creating a rather fashionable place to be in.
But like its exterior, the I-PACE's cabin does more than just look good. Without an engine up front, its designers were able to create a cab-forward design, meaning space for passengers, both front and rear, is aplenty.
In fact, while its shorter in length than the F-PACE, it feels more spacious on the inside, thanks in part to the airiness offered by its full-sized panoramic roof. It offers 890mm of rear legroom, which means even those with legs like Gal Gadot won't have problems getting comfy.
With no transmission tunnel in the centre of the I-PACE, there is also room for a 10.5-litre compartment in the centre console for phones, keys and other small items.
Its rear luggage compartment capacity of 656 litres is also larger than most medium-sized SUVs like the
BMW X3
, which increases to 1,453 litres with the seats folded flat.
And then, there's the way it drives
The I-PACE runs on two synchronous magnet electric motors powered by a 90kWh lithium-ion battery.
So while something like the
F-TYPE 3.0 Coupe R-Dynamic
with a screaming supercharged V6 has to make do with 375bhp, 460Nm of torque and a 0-100km/h sprint timing of 4.9 seconds, the I-PACE, with 394bhp and 696Nm of torque, will finish it in 4.8 seconds.
More importantly, it's the way it dishes out that performance that electrifies - fast and hard. Overtaking in the I-PACE is done in a blink of an eye, as it shoots forward to fill gaps in traffic you previously were never confident of zipping into.
And it isn't just capable in a straight line either. With its batteries acting as ballast, its wide tracks and all-wheel drivetrain, it's just as adept in corners. But at the same time, it also does well being driven in a more leisurely manner, going along smoothly while insulating you from the outside world.
You can also almost drive it with only the accelerator in 'high regenerative' mode, which slows the car down as you let off the 'gas' and recharges its batteries. This, however, will take some getting used to if you've never driven an electric car.
Over my three-day test drive, I travelled about 130km with about 230km of range left to spare. Jaguar however claims that under the Worldwide Harmonised Light Vehicle Test Procedure, the I-PACE is capable of a range of 470km.
Should you run out of juice, a 7.4kW AC wall box home charger can achieve an 80% charge in less than 10 hours, which isn't a problem if you're plugging in overnight, while rapid 100kW DC public chargers can recharge it from zero to 80% in just 40 minutes or 15 minutes for up to 100km of additional range.
I-PACE, space and grace
So what Jaguar has achieved with the I-PACE isn't just a class-leading electric vehicle, which is truly impressive considering the fact that it is its first electrified production model.
Rather, it has created something that's also thoroughly luxurious, notably spacious and quite a lot of fun to drive. For any one lusting after the
Tesla Model X
, there isn't any reason to with the availability of the I-PACE. As of now, it's the best at what it does, but it will face a rival in the form of the
Audi e-tron
later this year.


There's a
promotion
for Jaguar I-PACE Electric
Horsepower
:
294kW (394 bhp)
Transmission
:
Single speed (A)
Acceleration (0-100 km/h)
:
4.8sec
Fuel consumption
:
unknown