The X7 is the largest model BMW has ever produced but it proves to be reasonably easy to drive, and has enough luxuries deserving to be the king of the X model lineup.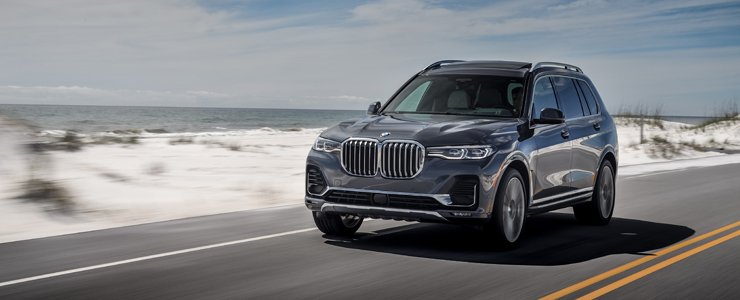 The
BMW 7 Series
has always stood as the Bavarian carmaker's flagship, and rightfully so. However, in today's market, the car-buying trend has moved from luxury sedans to luxury SUVs.
And this is backed by what rivals like Audi and Mercedes have been putting on the roads - think the
Audi Q7
 and the
Mercedes-Benz GLS
.
Unfortunately, while BMW had a big, successful luxury sedan, it never had a big enough SUV to take its aforementioned rivals on. For a long time, the biggest, baddest BMW X model available was the 
X5
, which against the Audi and Mercedes, isn't on par in terms of size.
But that's not the case anymore. Fast forward to 2019 and BMW now has seven SUVs, or Sports Activity Vehicles (SAV) as the brand calls it, forming its X model lineup. Topping it off is the all new X7 you see here, which is also the biggest car BMW has put on the road thus far.
The big, opulent giant
At first glance, most of the attention, aside from its sheer size, has to be on its kidney grille. After all, BMW has said that it's the biggest they've ever produced for a road car. And while it may have looked extremely monstrous in pictures, it actually isn't that out of place in real life.
In fact, we think it's just the right size as it gives the X7 a slight edginess in terms of design and complements its muscular
 proportions, which measure 5,151mm long, 2,000mm wide and 1,805mm tall
.
And surprisingly, for a vehicle of this size, climbing into its luxurious cabin isn't at all a problem for the average-sized adult, such as this writer who stands at about 1.7m tall.
Once you're in, the X7 continues to impress with the spaciousness, design and finish of its cabin, which exudes such a high level of attention to detail it somehow makes you wonder - do you really need a
Rolls-Royce Cullinan
, then?
While most of the switchgear will be familiar for those
au fait
with the brand, there are things, which are a step-up from what we've come to expect from even BMW's higher-end models.
Some of which include the soft suede trim on the pillars and roof, the elaborate ambient lighting setup, the heated and chilled cupholders and the 'Sky Lounge' panoramic roof, which illuminates 15,000 different patterns in the glass roof to simulate a starlit sky - a feature that's also available on the new X5.
And while the X7 we drove came in six-seater configuration, there is also a seven-seater variant, which is the more practical option. For Singapore, the X7 will come as standard with seven seats, with a limited-number, six-seater Launch Edition available, too.
In six-seater guise, space is aplenty all around for the average-sized adult and with all seats in use, you get 326 litres of boot space (more than both the Q7 and GLS), or a van-like 2,120 litres with the two rear-most rows folded flat.
So it's big and fancy, but is it any nice to drive?
Our test car was an X7 xDrive40i, powered by a 3.0-litre turbocharged straight-six, which makes a healthy 330bhp and 450Nm of torque. This is also the only engine variant that has been confirmed for Singapore, and it helps the X7 complete the century sprint in 6.1 seconds, meaning it's even quicker than the zippy
Volkswagen Golf GTI
in a straight line.
More importantly, apart from just being capable from 0-100km/h, the X7 also displays a level of grace that belies its heft. While it's admittedly no eager corner-carver, it sure knows how to handle itself through one with reasonable ease, confidence, and absolute comfort, thanks to its clever air suspension setup (standard for Singapore).
Coupled with its accurate and well-weighted steering, it's also easy to place on the road despite its size, which is likely to be one of the primary concerns for drivers who are considering a big car.
This made driving over 300km from Tallahassee to Pensacola Beach in Florida one of the most relaxing drives we've done, especially from the left side of the car and on the 'wrong side of the road'. Better yet, with a modern suite of safety assistance features such as Steering Assist and Lane Control Assist helping to keep you safely in your lane, it's not much harder to pilot than the smaller X5.
Big car, big impact
All in all, while the X7 is an all new model for BMW, and a new size offering from the brand, it has proven to have all the necessary ingredients needed to stand toe-to-toe against its rivals and still come out on top.
According to BMW Asia, the X7 xDrive40i variant is scheduled to come to Singapore in the second quarter of 2019, and is expected to cost from $440,000 to $450,000 including COE.