---
The Toyota Camry offers more legroom for rear passengers, is sportier around corners and has more safety systems but the Volkswagen Passat is more affordable and feels more premium overall.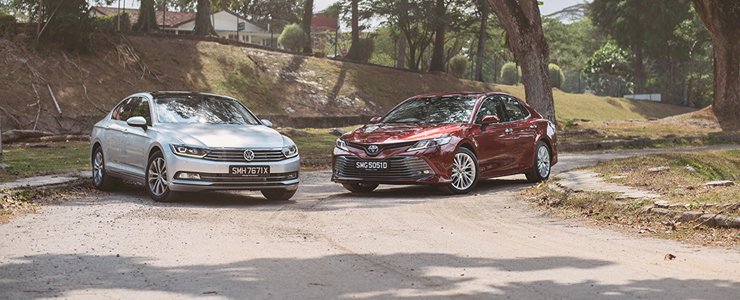 It's no secret the
Toyota Camry
is one of Singapore's favourite, and probably the most iconic, entry-level 
towkay 
ride. We last drove the
previous generation Camry
back in 2015, and after a rather long wait, the new model has finally made its way here.
Launched earlier this year at the
Singapore Motor Show 2019
, the new Camry has already been doing well in terms of sales according to local Toyota dealer
Borneo Motors
.
But a true test to its abilities is only complete with a customary head-to-head comparison, and what better competitor to have it go against than the
Volkswagen Passat
- a model that's been a top performer in our past family sedan tests. And after all, Volkswagen has been likened to be the Toyota of Germany.
Aggressive Toyota, subdued Volkswagen
Before this new generation model, the Camry has never been considered to be a car that is desirable in terms of design. But now, Toyota is rewriting its history by gifting the Camry a face that shouts sportiness and aggression. In fact, it's the sexiest-looking Camry that we've ever laid our eyes on.
Aided by lines that are curvier than its ironed-out German rival, it has much stronger road presence and is the clear winner in terms of styling.
A Camry that edges ahead in the design department, strange isn't it?
More importantly, life on the inside
Thankfully, it's not yet a loss for the Passat, considering the fact that most Camry buyers won't typically rank styling high on their priorities list.
On the inside, the Passat recoups lost points with a cabin that has an overall better fit and finish. On top of its more reassuringly solid switchgear, there is also less use of hard plastics around the doors and centre console, and more use of higher-quality, soft-touch leather all around in the Passat.
Combined with a user-friendlier and more modern-looking infotainment display equipped with Apple CarPlay connectivity, as well as a sunroof, it's hard to deny that the Passat instantly feels like the more expensive car although it actually costs $9,088 lesser (as of 19 March 2019).
Elsewhere, in terms of cabin equipment, both are pretty on par, having features such as electrically adjustable driver and front passenger seats, multi-zone air-conditioning and rear air-conditioning. The Camry does, however, come with additional window shades that shield rear-seat passengers from the sun.
But where the Camry loses out slightly in terms of presentation, it makes up for with more passenger space as it is longer and wider than the Passat, and has a longer wheelbase. 
The extra legroom you get in the back of the Camry is obvious and important to have especially if you frequent trips up North, but if you're a 
towkay 
that requires more room in the boot for your golf bags, the Passat is a better choice; its 586-litre boot is nearly a hundred litres larger than the Camry's 493 litres.

What about the business of speed?
We're not entirely sure most 
towkays 
considering either of these cars would have that need for speed but when it comes down to it, the Passat does feel like the livelier gunner, thanks to its turbocharged engine.
Although smaller in capacity than the Camry's naturally aspirated 2.5-litre, and producing the same amount of torque as the Toyota, it feels like there is a slightly perkier nature as a result of the turbo-DSG powertrain pairing.
But having said that, the Camry is no slouch either. While the Passat feels quicker off the line, we wouldn't be surprised if the Camry is just as fast, if not faster, if we were allowed to conduct a proper drag race.
The only real niggle we had is the vocality of the Camry's engine when you work it hard, which is amplified by how quiet the Passat's is, when driven back to back. But under a light right foot, this won't be much of an issue.
Thankfully, the rest of the car is hushed and refined at cruising speeds, on par with Passat, which shows just how improved it is over its predecessor.
What the Camry also does well, although quite surprisingly, is offer a sportier drive. Its steering, for one, feels meatier than the Passat and it has a slightly more stiffly sprung suspension setup - but don't mistake the latter for discomfort because there's never a time where the Camry's ride quality would trouble its occupants.
The Passat, on the other hand, tends towards a more pliant disposition, and has a lighter steering.
What about fancy safety tech; that's all the rage now, right?
For the extra $9,088 you pay for the Camry, you get safety nannies such as a pre-collision and lane departure alert, which the now five-year old Passat doesn't have.
But even without them, the Passat stands as an incredibly strong equivalent to the Camry; they just excel in different ways.
We like that the Passat costs less, has a more expensive-feeling cabin and is a wee bit more comfortable over broken roads. But the extra passenger space offered by the Camry will be a big draw for many buyers, and that fact that its Toyota badge stands for great resale and long-term reliability will be a tough factor to beat.
The added sportiness around bends in the Camry, too, is a plus for us. But so is the Passat's lower $976-a-year road tax.
This model is no longer being sold by local distributors
Engine Type
:
4-cylinder in-line 16-valve
Horsepower
:
154kW (207 bhp) / 6600 rpm
Torque
:
250 Nm / 5000 rpm
Transmission
:
8-speed (A)
Acceleration (0-100 km/h)
:
9.2sec
Fuel consumption
:
15.4km/L

Engine Type
:
4-cylinder in-line 16-valve TSI Turbocharged
Horsepower
:
133kW (178 bhp) / 6200 rpm
Torque
:
250 Nm / 5000 rpm
Transmission
:
7-speed (A) DSG
Acceleration (0-100 km/h)
:
7.9sec
Fuel consumption
:
16.9km/L