The Mercedes-Benz CLA250 is a compact four-door coupe that possesses power, looks and style.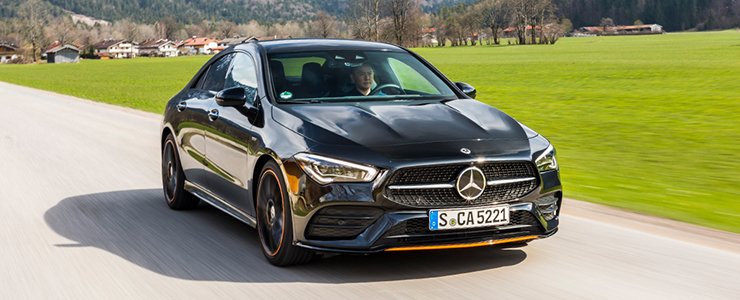 What we have here is a spicier and, admittedly, racier Mercedes-Benz CLA250 that's dolled up with the optional Edition One outfit. In other words, this is the weapon of choice to select if you find the
CLA200
a tad too mild.
And mind you, it's a highly desirable variant.
Wait, what do you mean?
The CLA250 that you see here is nicely equipped with a meatier 2.0-litre four-cylinder engine that steadily pumps out 224bhp and 350Nm of twisting force to all four wheels.
That's over 60bhp and 100Nm of torque more than the 1.3-litre CLA200. This allows the car to hit the 100km/h mark from nought in just 6.3 seconds - some two over seconds faster than its said brethren.
And if you're car junkie, you'll know that this time difference is highly significant on the road. The CLA250 manages to build up speed quickly and steadily that overtaking manoeuvres and mild road hooliganism are done so more for the 'kick' rather than the 'need'.
What about carving corners?
While this sort of driving behaviour is best explored on the straights, the CLA250 has got absolutely no problems getting it on around the twisties.
Thanks to its taut chassis, talkative steering and sticky 19-inch tyres, the new Merc obviously has the handling prowess to match its dazzling design. It has the ability to tackle corners with verve if you give it the beans and yet still manages to maintain its composure should you choose to drive it like a gentleman.
It goes over broken bitumen and painfully pockmarked roads without sending the sort of intrusive vibrations to the cabin that's always associated with sportier chassis.

Speaking of cabin...
Differences on the inside are quite significant. It's a lot sportier than the regular variants that don't bear the Edition One moniker. You get beefier benches, sportier steering wheel and a snazzier interior with orange stitching.
And with all of that, space isn't compromised at all. Boot space remains at 460 litres, as per the regular variants while head and legroom are sufficient for three Singaporean adults at the back.
It does look different, too...
Just as different as its interior is its exterior. The Edition One gets a more aggressive stance, bigger wheels as well as a more attention-seeking design, with its orange trimming.
That said, attention-seeking isn't used in a bad way here. In fact, the design isn't a bad thing at all because it looks every bit sporty and every bit stylish in our eyes.
Plus, differentiation is key for the Edition One, more so when you're paying a premium for it.
Say if I want one, how do I go about it?
The Edition One is an optional variant that will be available by the end of this year. You can get it, but time wouldn't be on your side because this option will only be readily available one year from the time of launch.
This makes this variant a highly desirable one.