---
The four-cylinder BMW Z4 is a two-seater drop-top roadster that proves less is more.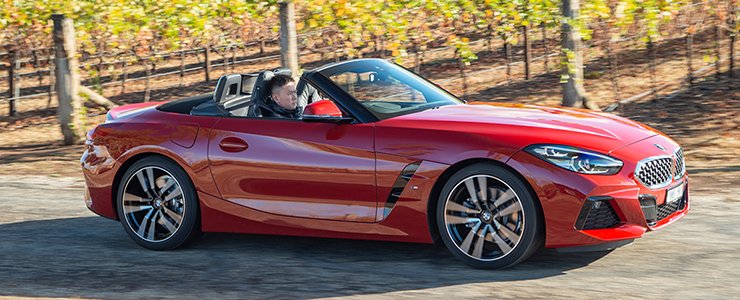 Let's be honest here. A roadster like the rear-wheel driven BMW Z4 is a drop-top two-seater that doesn't bode well as a family car. Its limited luggage capacity and claustrophobic cabin aren't exactly its best qualities for the weekly golfing and soccer session runs either.
But therein lies a very unique charm about the all new Z4. This car, while still possible for your everyday activities in Singapore, is made to do a little bit more for the driver and passenger.
Like what sort of things?
For starters, it's a car that will put a smile on your face. From the time you set your eyes on her to the time you start her up and head out to the open roads, you could say the Z4 is a happy pill of sorts.
Its stylish design has a lot to do with it. With its elongated hood and shortened rear that make up a classic roadster silhouette, contemporary grille and bold curves, the Z4 is anything but boring.
Same can be said for its cabin, too. While everything in here remains instantly recognisable as a BMW, subtle upgrades can be seen on the infotainment system as well as the instrument panel.
You were saying something about open roads?
But aesthetics aren't the only aspects that make the Z4 a happy pill.
Unlike the six-cylinder 3.0-litre
Z4 M40i
that we've tested, the sDrive20i that you see here comes equipped with a smaller 2.0-litre four-pot powerplant that sends out 197bhp and 320Nm of twisting force to its rear wheels.
But do not, for a second, think that the car is any less capable than its more powerful brethren. Mated to a quick-shifting eight-speed automatic transmission, the four-pot Z4 hits the 100km/h mark in just 6.6 seconds - just about the century sprint timing of the
Volkswagen GTI
hot hatch.
More than just its speedy disposition, the Z4 handles with absolute alacrity, thanks to its firm ride that ensures composure through high speed bends, yet has a setup that doesn't compromise on everyday compliance.
In that sense, you know you can always point the car towards any sort of roads with immense accuracy, accompanied with the loveable steering wheel that tells you all kinds of stories from the tarmac that you're driving through.
Is it a roadster that's worthwhile?
All in all, there's just no doubting the Z4's worthiness as an ideal weekend getaway vehicle and an enthusiast's car, both of which are in their very own rights.
Yes, this may just be a 2.0-litre powerplant, but mind you it does pack quite a punch - enough to know just how substantial this car really is.