The second generation Audi Q3 is a compact SUV that makes for a perfect family hauler.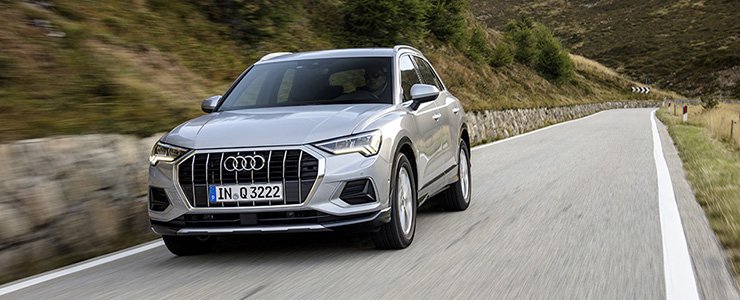 SUVs are all the hype these days and that's nothing new, to be quite frank.

You could even argue that such an acronym is almost annoying to hear about, let alone read about one on Singapore's number one automotive website.


And I do not disagree with you. Both the part about Singapore's number one automotive website and how SUV reviews are almost annoying to read and, for us, to drive.

Wait, is the Audi Q3 one of them?

As you'd come to expect, yes and no. Yes, it's annoying to drive because it's every bit predictable and every bit comfortable and every bit handsome and every bit spacious and that annoys the hell out of me.

And no, the Audi Q3 isn't one of the those annoying archetypal SUVs simply because it does its job well and excels in what it was meant to do.


In other words, if you're looking for a highly functional SUV with a bit of class, has oodles of comfort and a truck load of extravagance, you know where to look...

So be honest with the way the Q3 drives then

In the case of our test car, you get the version of the compact yet spacious Q3 that can perform the century sprint in a respectable 9.2 seconds, and run onwards to the top speed of 207km/h.

There is nothing to boast about here, but you and I will have to appreciate that these modest figures from our test car come from a humble 1.5-litre in-line four-cylinder that's capable of pushing 148bhp and 250Nm of torque to the front wheels. Singapore, however, will be getting a 1.4-litre powerplant with the exact same output when it arrives at the end of this year.


Thus, the Q3 drives with the sort of enthusiasm that's on par with chocolate sauce on waffles. But don't get me wrong, this isn't a bad thing at all. Not one bit.

You see, when it comes to SUVs, they should be more functional than anything else. Speed doesn't matter, sprints aren't relevant and looks, to be quite honest, aren't exactly universal.
Thankfully, the Audi Q3 is a handsome lad, with the right curves at the right places. More importantly, it's the sort of SUV that prioritises comfort and ride quality over everything else.
It soaks up bumps and ruts elegantly on the go and has a pleasant sense of staying planted in corners that are taken slightly harder. Of course, the laws of physics cannot be defied, as the car has its limits when it comes to controlling lateral rolls. Fortunately, overtaking slower traffic is simple, and the car feels quite compact when you're doing it, with the added benefit of good outside visibility.
You were talking about roominess?
On the inside, the car also benefits from its spaciousness that will fit five occupants comfortably. It also comes with furniture-friendly 530 litres of boot space that can be enlarged to an astonishing 1,525 litres with the rear bench folded.
More than space itself, the Q3 is yet another exemplary model from Audi - meaning to say there's a sense of smart and classy ambience that feels very much like a business class lounge. Some may argue that it's monotone and clinical, but our test car does benefit from its two-tone colour cabin and texture.
Still, there's a quietly expensive and high quality feel about the car's fit and finish, switchgear and materials. And there's most certainly no doubting the fact that you're sitting behind the wheel of a car from a brand that's the best in business when it comes to attention to details.
Say if I'm looking for an SUV...
So if you ever happen to be in the market for an SUV, I'd say go for the
Hyundai Tucson
or the
Toyota RAV4
because they'll be cheaper to buy, cheaper to run and cheaper to maintain.
But if you're looking for a highly functional SUV with a bit of class, has oodles of comfort and a truck load of extravagance, you know where to look...