With a highly capable powertrain, well-sorted chassis and surprising agility, the diesel-powered 7 Series is a real gem of a car.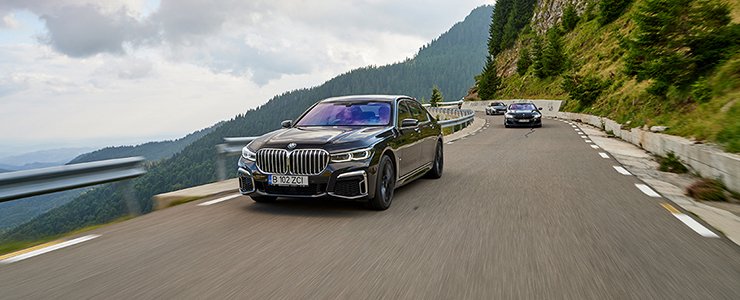 As you pause after the Balea Tunnel atop the Transfagarasan and gaze down into the valley with all its snaking roads, the
7 Series
probably isn't the first car that pops into mind when considering what you want to drive down in.
The
Z4
, the
8 Series Coupe
and the
8 Series Convertible
all seem like much more exciting options to tackle winding mountain roads than a diesel-powered long wheelbase luxury limo.
Well, you'd be mistaken.
Hold up right there...


The facelifted 7 Series brings with it a ton of updates, unmistakable giant grille included. There are slimmer lights and a full-width light strip at the rear.
The cabin is packed to the brim with equipment, while also being more comfortable and refined than before. Sound insulation has been improved, the quilted leather cossets your body as you drive, and all in all it's a classy place to be in.
Most notably, the car feels a lot sharper and dynamic than before. It's well-balanced, doesn't understeer much for a car its size, and is actually good fun to hustle up and down mountain roads. In fact, it feels more dynamically balanced and agile than the 8 Series Convertible that I also drove.
This 750Ld is powered by a 3.0-litre turbocharged diesel engine pushing out 394bhp and 760Nm of torque. Max torque is available at 2,000rpm, which means that for short bursts, it is surprisingly easy for this two-tonne limo to keep up with its more firepower-endowed brethren. 
But it's not a sports car...


Hustling the 750Ld up and down the Transfagarasan was much more fun than I expected. The car certainly does not feel its length - it's easy to place on the road, agile through corners, and just much more capable than you'd imagine. 
Importantly, all that does not come at a compromise of the 7 Series' primary function - extreme levels of luxury, comfort and serenity.
Trundling back to our overnight stop, the 750Ld proved to be delightful. The engine is extremely smooth, refined and quiet, and the improved noise insulation means you are truly cocooned and isolated from the world around you. And if you are a little tired, you can easily engage the Active Cruise Control and let the car assist you.
And perhaps most importantly, because it's a diesel, we didn't have to refuel even once during our four-day drive. 
But? 


The BMW 750Ld is a highly comfortable and competent luxury limo. Unfortunately, we won't be getting this particular variant in Singapore. It's a real pity, because diesel technology and cars have improved significantly in recent years (to keep up with more stringent EU regulations).
This BMW 750Ld is ample proof that diesel cars still have a place on the road.