The Audi RS5 Sportback is a handsome-looking five-door coupe that's incredible on the move and yet tamed enough for the family man.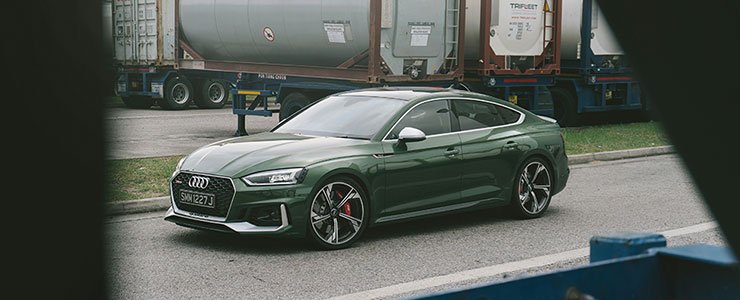 Many will tell you this is your typical case of a Dr. Jekyll and Mr. Hyde sort of car. You know, the kind that will turn into a feral animal should the time call for it, and yet be comfortable and practical enough for the whole family.
To a certain extent, it's true. The Audi RS5 Sportback clad in Sonoma Green that you see here is the epitome of such an interpretation - a car that has two distinct characters.
But spending a weekend with the car shows that the new Audi model is more than just a common car with two distinct characters at both ends of the spectrum. It is a car that's highly tamed and manageable. And mind you, this is coming from an amateur driver at best.
It's an everyday thing
That's saying a lot for a car that's packed with 444bhp and a neck-snapping 600Nm of twisting force - the same output from the same powertrain as the
RS5 Coupe
we tested in April last year.
The figures may not give it justice in today's context, but to put things into perspective, the RS5 Sportback will send you to the 100km/h mark with eye-widening gusto, in just 3.9 seconds. That's just a split second slower compared to the highly desirable 495bhp
Porsche 911 R
.
However, don't let these numbers fool you into thinking it's a car that's best suited for the track and only the track. Yes, it'll do well on the track, we have no doubts about that. But the RS5 Sportback has a matured restraint about it that makes it a tad more useable and more friendly than, say, a fire-breathing
BMW M5
.
During my time with the car, there's was never a situation (be it parking or narrow streets or badly paved roads) when there was a need to second guess whether the car was going to suffer from any bruises or scratches.
It's the presence thing
These doubts have largely to do with the fact that the car is a relatively large vehicle. Measuring 4,783mm long, 1,866mm wide and 1,387mm tall, the Audi has ample presence on the road whether it's moving like a locomotive on the highway or looking like a show car that's parked at a lot.
It's also fair to say that the RS5 Sportback has a lot of good looks going for it, at least in this storyteller's eyes, which make this car a lot more palatable than you'd come to expect. More often than not, high-performance cars tend to be exaggerated with the usual pre-requisites such as larger-than-life air intakes, huge spoilers and excessively loud tailpipes.
But not so the classy Audi. This is so even with the car squatting on muscular haunches, has an angrier-looking grille, sports sizeable air intakes and has a pair of large oval exhaust.

Inner oomph
Just as properly classy is the car's cabin. Everything in here is of high quality and typically sophisticated, as expected of the brand with the four rings. Knobs turn with a satisfying 'click' while buttons are depressed with a fulfilling 'tick'.
Space wise, the Sportback also happens to be generous. Thanks to its aforementioned dimensions, its wheelbase of 2,826mm translates to a spacious affair for three rear passengers. The 465 litres of boot space, additionally, will see to your two strollers, a Filson tote bag, as well as several grocery bags to ensure you start your week on the right foot.
As for the driver, you're faced with a sporty flat-bottom steering wheel and seated on a rather intricately stitched seat that features massaging functions. You have the usual 12.3-inch high-resolution Virtual Cockpit that's also available on the new
Audi Q3
, as well as the an 8.3-inch screen on the centre stack that's controlled via a rotary dial.
You'd be surprised
At the end of the day, regardless of how good-looking it is on the outside and how ample it is on the inside, the Audi RS5 Sportback remains to be a tamed car that's suitable for the anyone that's well-heeled enough to fork out $387,000 (as of 12 September 2019).
Yes, it's louder in Dynamic mode, with the inner engine howling and outer stares glaring, but in Comfort mode, which you'll be using most of the time, the engine note is a reminder of refinement.
Perhaps, this is a gentle and fitting reminder that not all high-performance cars need to cause anxiety and nervousness to amateur drivers like this pint-sized storyteller.
This model is no longer being sold by local distributors
Engine Type
:
V6 Twin Turbocharged
Horsepower
:
331kW (444 bhp) / 6700 rpm
Torque
:
600 Nm / 5000 rpm
Transmission
:
8-speed (A) Tiptronic
Acceleration (0-100 km/h)
:
3.9sec
Fuel consumption
:
11.2 km/L