---
Handsomely styled, generously equipped and much better to drive than before, the new Volvo S60 is poised to stand tall against its keen segment competitors.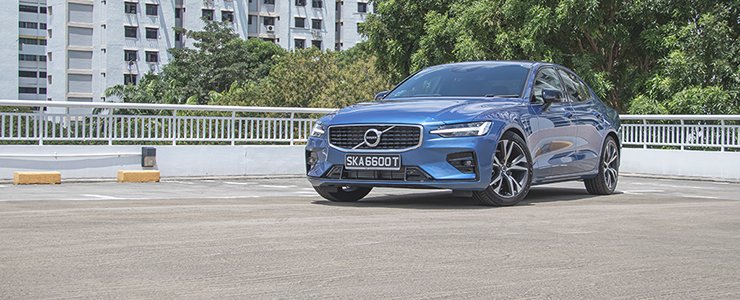 It the premium compact sedan market, there are a couple of clear and obvious (German) choices - the
Audi A4
, the
BMW 3 Series
or the
Mercedes-Benz C-Class
. A smaller population may stake their money on a British car (the
Jaguar XE)
, but realistically, a bulk of the models we see on the road are of the German variety.
With the brand new S60, Volvo is now offering buyers an alternative Swedish choice. Well, not technically Swedish, because this car is built in America.
The S60 marks an important point for the company - it rounds out the brand's seven-car rollout since 2014, all bearing Volvo's new design language. And according to Volvo, the S60 is the most dynamic car they have ever produced. So, a big claim to live up to...
Muscular stance


With its cleanly drawn lines, athletic body, and 'Thor's Hammer' LED head lights, the new S60 is quite a fashionable-looking car - it looks interesting and different. It's muscular, sporty and has plenty of road presence. In fact, we reckon its one of the best-looking cars in its class right now.
The interior is also pretty impressive. There's a good amount of space for the rear passengers, thanks to a 100mm increase in wheelbase. Volvo says this translates to 240% more knee clearance, and while we cannot prove that figure, we can report that the rear leg room is much more than you'd find in an A4 or a C-Class.
In this R-Design model, equipment levels are high. We particularly like the contour front seats - high-backed, supportive yet plush, they are a real joy to spend time in.
You also get a 9.0-inch iPad-style infotainment touchscreen that's simple and intuitive to operate, a fully digital instrument cluster, paddle shifters on the steering wheel, as well as a sunroof. 
Sleekly designed, well packaged and high in build quality, the new S60's cabin is quite hard to fault. The only thing that feels conspicuously missing on a 2019 car is a wireless charging pad for your phone (even Hyundais and Kias have them).
Steady going


This T4 model packs a 2.0-litre engine producing 187bhp and 300Nm of torque. Driven lightly, it's entirely comfortable and usable, with good low-end grunt doled out in a smooth manner.
Get hard on the throttle and you could be forgiven wanting added refinement - the sound isn't great, and there's not a lot of puff left. Also, the engine takes a fraction of a second to respond after you come off the throttle, so you will sense the car continue to surge ahead before the engine braking kicks in.
However, we have little else to complain about how the S60 drives. The ride, even with this lowered suspension, is very comfortable - soft enough to soak up bumps in the road, but not too soft as to be too bumpy or floaty. The steering is also nicely weighted, offering good stability at highway speeds.
Is it the most dynamic car Volvo has ever produced? It's hard to conclusively prove such a claim, but we must say that it sure feels like it. The car handles with tidiness and assurance, the chassis feels tight and composed through corners, and the car just drives really well. On the road, it never feels clunky or lacklustre. 
Standing tall


The new S60 is a very impressive offering. It feels premium, drives well, offers plenty of comfort and space, and all in all is a very attractive alternative to the more common German options.
It's also priced pretty well - $189,000 for this T4 R-Design model puts it on the lower end of the spectrum as far as compact executive sedans are concerned.
So yes, while the market is (and will likely still be) dominated by the German mainstays, the new Volvo S60 definitely manages to stand shoulder to shoulder with the 'big boys'. Looking for an alternative? We'd recommend this car in a heartbeat.
Want a better look at 'Thor's hammer'? Watch our video review of the S60 right here!
This model is no longer being sold by local distributors
Engine Type
:
4-cylinder in-line 16-valve Turbocharged
Horsepower
:
139kW (187 bhp) / 5000 rpm
Torque
:
300 Nm / 4000 rpm
Transmission
:
8-speed (A)
Acceleration (0-100 km/h)
:
7.1sec
Fuel consumption
:
13.9 km/L