---
We have reason to believe that Chery aims to flood the global market with (ed. plagiarized) subcompacts. First the QQ, the current A1, soon the upcoming QQ2 and QQ5 in China. Everyone was up in arms over the QQ's copyright controversy as well as safety ratings of the vehicle.
The A1, however appears to sport a different set of promises and dynamics. It looks better and it's engine is larger in capacity.
However, when news surfaced that Chery had brought in another city car that would "revolutionize the way China cars were seen," the first thing that came to our minds was that they had decided to buy a Korean hatchback and simply rebadge it. Default jokes on plagiarism and crash tests ensued.
At first glance™
While the editors at SGcarmart didn't have to read 'who moved my cheese' in order to realize that China cars have come a long way since the fateful QQ, all we did was glance at the A1's front, and soon after we started trudging slowly towards it.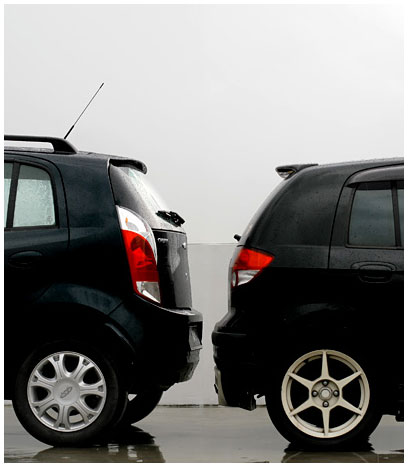 According to the kind people from Chery, the A1 was designed by Italian styling company Gruppo Bertone. Streamlined headlights, curved color bumper and standard fog lamp made us scratch our heads in confusion. This sudden departure from the conventional, oddball, or should we even say, plagiarized Chinese design seems a little daunting. Not to say that this car was entirely original - the sides and rear end seemed hauntingly familiar to a Fiat Idea, with C-pillars that mimic a Hyundai Getz.
The "sit-inside test"
Many Chinese car-seat manufacturers seem to suffer from color blindness, judging from the tonal balance of the grey and creamy-white fabric seats. Our bulky frames quickly rejected the front seats. They were indeed, uncomfortable to start with, but surprisingly, it was nothing that we couldn't get used to after a while.
The A1's control surfaces are well within reach, with a well placed array of controls including the default air-conditioning, dual cup holders, hazard light and built in CD player. A USB port allows for the plugging in of external MP3 players - enough for the semi-pampered Singaporean in us.
The strategically located gear-knob, unfortunately, looks more phallic than ever, possibly due to it's designer's secret stash of FHM magazines.
This model is no longer being sold by local distributors
Engine Type
:
4-cylinders in-line 16-valves DOHC
Horsepower
:
61kW (82 bhp)
Transmission
:
5-speed (M)
Acceleration (0-100 km/h)
:
16sec
Fuel consumption
:
16.6km/L