---
The RX-8's greatest appeal remains its uniqueness. Not only is it the only vehicle powered by a rotary engine, it also combines stylish coupe design with the practicality of rear doors.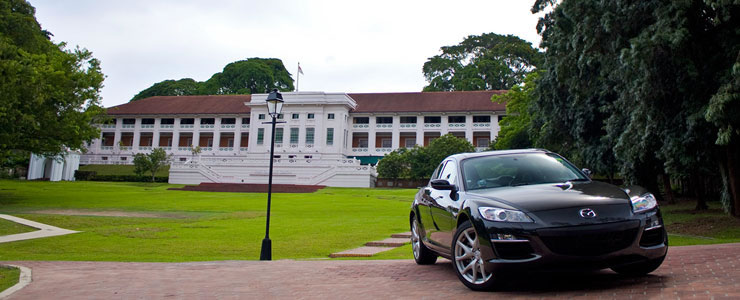 Mazda has been pretty well-known for building sporty cars. But for driving enthusiasts, it's the company's signature of building sport coupes with lightweight rotary engines that sets it apart from its competition.
Mazda took a bold step of bringing a rotary-engined coupe to the market and they got it spot-on. Not only is the Mazda RX-8 a sports car with a four-door configuration, it's one that has been created to delight.
It may be a sports car, but it's not one that screams boy racer with high mounted rear spoiler, bucket seats and a row of race meters measuring turbo boost and oil pressure and temperature.
Mazda has intelligently positioned the RX-8 towards the cool and the calm instead of the attention-seekers. And that is something that has won over not the votes, but the hearts.
Exterior
Styling wise, the overall look of the RX-8 is aggression through and through. It's one of those cars that look fast even when standing still.
With puffed up front fenders, edgy modern lines and abundant curves, the car garners plenty of command as it crouches low, ready to unleash the madness from within.
The sleek lad has always been a looker, bringing 'cool' to a whole new level with unapologetic lines and design elements that very few cars can pull off. From a distance, the RX-8 looks like a low-slung coupe with a long hoodline, lipped wheel wells and low-profile tires.
It has the visual appeal bordering on the boyish tuner side of the spectrum as the roofline arcs over the back and smoothly meets the rear decklid. And from the side, the RX-8 seems impossible for it to have useable backseats.
I was wrong.
The fact is the RX-8 features rear doors that allow for easier access to the surprisingly roomy backseats. This unique four-door design is proof that a true sports car does not need to sacrifice space or convenience for performance.
The advanced design of the rear-hinged rear doors provides a large door opening, allowing adult-sized passengers to easily enter and exit the vehicle. Although these rear doors can only be opened if the front doors are open, I reckon the idea is awesomely wikkid.
This model is no longer being sold by local distributors
Engine Type
:
Renesis twin rotary water cooled
Horsepower
:
160kW (215 bhp) / 7450 rpm
Torque
:
211 Nm / 5500 rpm
Transmission
:
6-speed (A)
Acceleration (0-100 km/h)
:
9.7sec
Fuel consumption
:
8.3km/L