---
The RX-8's greatest appeal remains its uniqueness. Not only is it the only vehicle powered by a rotary engine, it also combines stylish coupe design with the practicality of rear doors.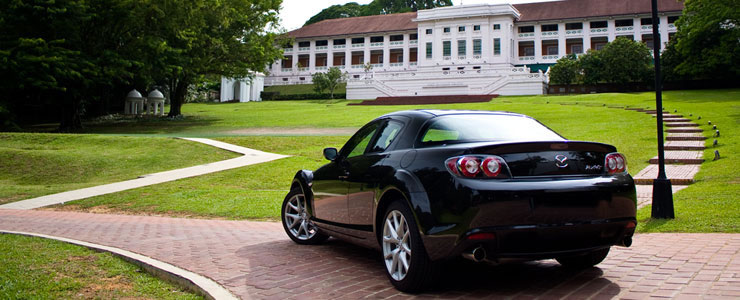 The Drive
Although the Mazda RX-8 has the look of a race-tuned sports car, its demeanour on the road is considerably more docile. There's plenty of grip in the corners and solid feedback through the steering wheel. The best way to appreciate the RX-8 is on winding roads. The chassis feels alive and ready to respond to the driver's every instruction.
But a compliant ride means that it won't beat you up on the daily commute. The 1.3-litre rotary engine delivers virtually vibration-free and subdued noise levels. For a sporty car, it is extremely well insulated.
I was a tad disappointed at the lack of acceleration power. Although generally quick on paper, acceleration is hardly impressive for a sports car. However I did find myself constantly wanting to drive it. Keeping your foot down on the right pedal around a winding road is pure driving pleasure.
Balancing the ride and handling of a sports car can be a tricky job but Mazda pulled it off well. The body control is impressive indeed. No matter what the surface or how tight the corner, the RX-8 just keeps on gripping.
Feeling firm and controlled, it attacks corners with relish, enabling you the confidence to push even harder.
The steering is well-weighted and offers excellent feedback. While the RX-8 can't touch any of its competitor's power levels, it blows them away in the handling department.
Conclusion
Everything is pretty much as you would expect from a rear wheel drive sports car. Body roll is minimal and levels of adhesion are high. This, along with sharp steering and a 1,403kg kerb weight make the RX-8 one of the best-handling cars in the market.
Although its competitors provide more oomph in terms of power, this sleek lad provides a drive enthusiastic enough to gain the driver's heart.
Now that's something money can't buy.
What do you think? Jot down your opinions at the comment box below.
This model is no longer being sold by local distributors
Engine Type
:
Renesis twin rotary water cooled
Horsepower
:
160kW (215 bhp) / 7450 rpm
Torque
:
211 Nm / 5500 rpm
Transmission
:
6-speed (A)
Acceleration (0-100 km/h)
:
9.7sec
Fuel consumption
:
8.3km/L