---
It takes a good carmaker to explain while a superior one to demonstrate. But it takes a great carmaker to inspire and invigorate.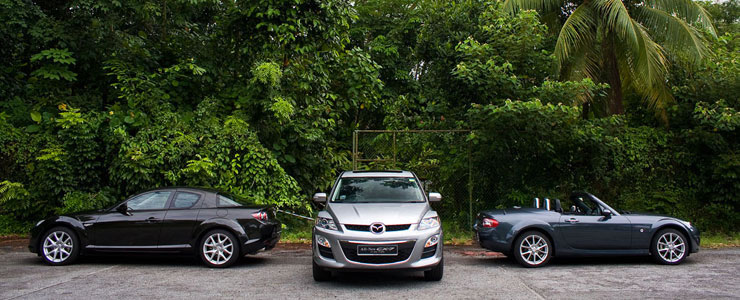 Although being behind the wheels of the three cars was never about speed or power, they inspired me with their guts. And that felt good. It was more of being in the moment and I never realise this until I tried them myself.
That's the inner beauty concept about Mazda's X-Series.
If there is a car that you can have "your cake and eat it", it'll be Mazda. What makes it particularly attractive to the public of this generation goes beyond the fact that it is a fine specimen that represents stylish living.
It is simply the case whereby the Japanese carmaker has positioned itself to win the hearts of the people.
The Aura of the Xs
Mazda has been very well-known for creating cars that are stylish and sporty and the Mazda3 and RX-8 are living proof of such an assembly. But you almost cannot feel the aura just by looking at it.
The new five-point front grille with pronounced fenders and sleek 'flowing' lines are the current distinction of the Mazda family. And it's these designs that have helped the Japanese carmaker raise its bars in terms of muscular yet pleasant on the eyes outlook.
But that's on the outside. When you're in one, a different sensation awaits you.
None of the three cars makes you want to floor the pedal to see how fast it can go. Of course, for the sake of a review, it has to be done. But that's not the point. It's the feeling of being satisfied just being able to drive one of these.
For the CX-7, it reinforces the importance of space over speed and power. After all, it's a Sport-Utility Vehicle (SUV) and transporting your family could just be your main priority.
The RX-8, on the other hand, is a car that not everyone will reckon it's pretty since it's weird in both good and bad ways. But it certainly feels contemporary. Step inside and the Mazda RX-8 exudes a dynamic sentiment, evoking the driver to have positive feelings about the car.
It also has a similar intellectual substance as the CX-7, with space and practicality being the more important factors than performance. The mere 1.3-litre rotary engine will not be able to raise your hair with its acceleration.