The Lexus RX450h carries a torch - for advanced hybrid technology, better fuel economy and more importantly, for the luxurious look and feel of a Sports Utility Vehicle (SUV).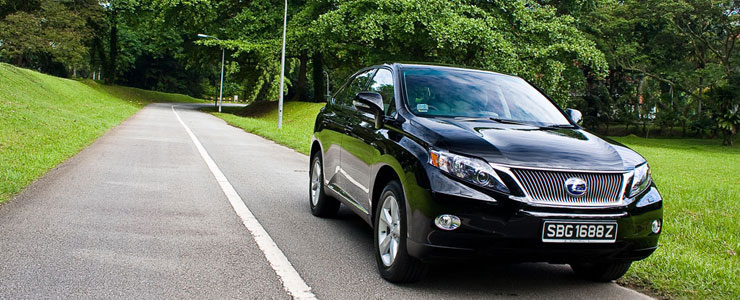 No one person can be credited for the invention of the automobile that you are driving today. It developed bit by bit from the ideas, imaginations, fantasies and the brainstorming of hundreds of individuals through hundreds of years.
First there was the Toyota Prius, who was the king of hybrids, then the Honda Insight and the Nissan Leaf. And somewhere in between this time of evolution, Lexus saw the potential in the innovation.
Today's buyers believe their powerful SUVs work best with their active lifestyle, so the market has responded by providing diesel and hybrid engines as options for beating the high prices of petrol.
One such vehicle is the Lexus RX450h (h for hybrid).
Lexus played the game as safely as they could. The Lexus RX, one of the bestselling of all Lexus models, is a cash cow for the brand. Thus, when the time for revamping came, Lexus knew how not to mess with a good thing.
So it comes as no surprise that the latest RX270, 350 and its hybrid sibling 450h are largely the same as they've always been - pleasant and inoffensive.
Exterior
Styling wise, the difference in details are minor - headlamps are smaller but no less sharp and sleeker and a more muscular appearance from the size. The swooping roofline and wider sculpted body sides are somewhat more dictatorial than before and it's still handsome.
It's easy to spot a couple of differences between the hybrid and conventional models though. The hybrid ones feature unique front grille and bumper with blue-tinted L badges and lighting elements up front and at the back.
Similarly to the front, the side appears relatively aggressive and muscular rather than sleek. The eye is drawn to a crease line that runs downwards as it flows backwards to the rear wheel arch. Clever use of chrome at the bottom side also draws all attention to the "hybrid" logo, as if it was meant to show off its fuel saving capabilities.
Aside from looking nearly identical to the conventionally powered RX model, the 450h is a clean yet tough looking SUV that somehow remains subtle, contemporary and conservative.
This model is no longer being sold by local distributors
Horsepower
:
220kW (295 bhp)
Acceleration (0-100 km/h)
:
7.8sec
Fuel consumption
:
15.9 km/L